A CUP OF COFFEE WITH… Orla Power, Marketing Director at Luzern eCommerce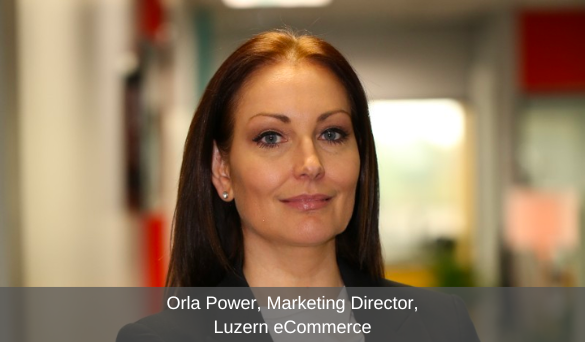 As seen in Cross-Border Magazine, Summer Edition 23.
We like to have inspiring discussions about cross-border e-commerce over a nice cup of coffee (or tea). In this issue, we are focusing on Luzern eCommerce. Luzern eCommerce offers an e-commerce platform, and they wrap that with revenue-generating services that optimise sales, margins, and inventory across channels and geographies for some of the world's leading brands. We spoke with Orla Power, Marketing Director at Luzern eCommerce.
SUBJECTS' RIGHTS:
Our unique blend of advanced technology and expert knowledge enables us to excel at what I call the "messy" execution end of eCommerce, providing our clients with the speed and agility they need to succeed in a competitive landscape. our goal is to help brands grow profitably and sustainably online, and we are deeply committed to our client's success. We are working towards being the go-to provider of e-commerce acceleration services worldwide.
Coffee or tea? When and how?
Coffee in the morning, with plenty of milk. I do like a cup of tea in the afternoons also, with no milk. If I'm out and about, I usually go for a flat white coffee. Being Irish, I do love Irish coffee on occasion too.
Can you tell us a bit about Luzern eCommerce and yourself?
I joined Luzern eCommerce four years ago as Director of Marketing, and I lead the go-to-market strategy for the company, so everything from corporate messaging and positioning to product marketing to digital, PR, and customer marketing. Luckily not all on my own! I do have a great team of marketing and business development professionals. The culture is highly collaborative and inclusive, and everyone is encouraged to share their ideas, opinions, and suggestions, as the company respects and values input. The subject matter expertise and market knowledge of the team mean we're always at the cutting edge. Also, we get to work with leading global brands that are highly respected in the industry. This exposure provides us with a wealth of knowledge and experience in the e-commerce field.
What kind of solutions does Luzern eCommerce offer?
We have an e-commerce platform, and we wrap that with revenue-generating services that optimise sales, margins, and inventory across channels and geographies for some of the world's leading brands. Through our platform and our people, we extend the e-commerce capabilities of brands, helping them to attract buyers, boost margins and improve the customer experience of the shopping journey. Our focus on Amazon and other marketplaces ensures that our clients can reach and convert more buyers where they like to shop. By providing comprehensive e-commerce support and resources, we help brands realise their full potential and achieve long-term growth and success.
And how do these solutions help online retailers improve their business?
The Amazon Marketplace represents both an opportunity and challenge, as selling on the world's biggest one-stop shop can present issues around pricing, profit margins, and more. Helping brands with their Amazon strategy is our sweet spot. They need to be able to grow and sustain profitability, and that's where we come in. The other main part of our business is building D2C web stores. In both cases, Luzern's proprietary technology has been proven to dramatically increase online revenues for the brands we work with. While the business of building bespoke web stores varies from client to client, the challenges of selling on Amazon are likely to resonate with brands worldwide. Our household brand name customers have a hugely positive impact on prospects and help prove our ability to scale and work with such brands around the globe. Our customers know we are solid, and today we work with each client as an extension of their team. Our flexible platform and agile approach enable our big customers to move fast, test and learn, and deliver the optimum go-to-market e-commerce strategy.
Can you tell us a bit about the latest trends within e-commerce when it comes to selling on marketplaces?
Brands recognise the potential of a multi-marketplace approach, and key e-commerce players around the world—Walmart, eBay, and Best Buy—are enjoying spectacular growth and increased shopper numbers. Regional marketplaces, including Allegro in Poland, Bol. com in the Netherlands and OnBuy and Debenhams in the UK, are investing in marketing and advertising to raise their profiles. Specialist sellers such as ManoMano and Zalando are diversifying beyond their traditional markets and products, working on developing comprehensive fulfilment services, including warehousing and delivery. They are looking to compete head-to-head with Amazon, and brands need to join the revolution.
And what about the recent challenges within e-commerce?
In many cases, brands feel they are losing control due to the complexities of Amazon, along with the extensive costs associated with that. Loss of control over pricing can impact pricing on all channels and creates channel conflict. Product lists can be suppressed if they are deemed to be unprofitable to Amazon, which puts a significant squeeze on margins. It can be difficult to launch new products unless Amazon supports it, which they don't always do as without previous sales history, it's seen as risky. Then there's the whole product returns issue, which can be costly and difficult to manage. Amazon can also push competitors if there is more margin in it for them, and we now see them launching more of their own branded products. In our experience, there's a kind of love-hate relationship between the brands that sell on Amazon.
Lastly, what would your advice be to retailers when it comes to overcoming these challenges?
To compete effectively in the multi-marketplace space, you need the agility to move fast with a clearly defined strategy. Consumer expectations have never been higher – and those expectations have largely been set by the success of Amazon. Consumers expect the purchasing process to be smooth and seamless, from the moment the decision is made to buy, right through to the payment, fulfilment, and further on to the returns and refund procedures if necessary. Different currencies, changing financial regulations across multiple jurisdictions, cross-border transactions and import and export rules all need to be understood and incorporated. ••
Download the full magazine here.