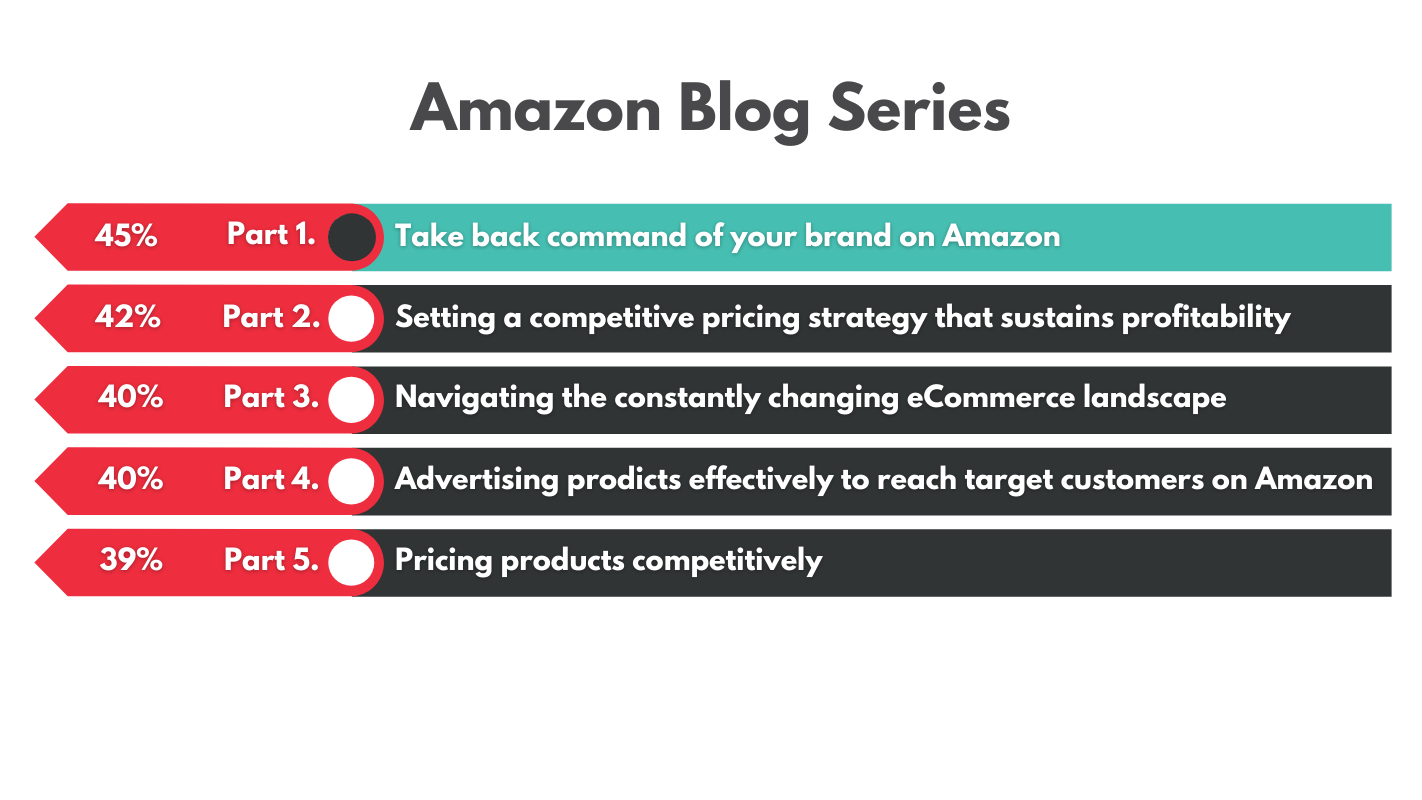 Welcome to the first of our five part series on how brands can overcome the challenges of selling on Amazon. In our survey of over 250 eCommerce Decision Makers almost half (45%) state that gaining control of their brand on Amazon is difficult. More than half agree that navigating Amazon can sometimes feel more difficult than navigating the Amazon jungle!
Control Price Margins
Brands that sell direct to Amazon (known as 1st party vendor, or 1P), whereby Amazon issues a purchase order, takes in the product and acts as a retailer with the authority to independently implement price adjustments. For example, if the product is available elsewhere at a lower cost, even in a promo on the high street, Amazon can demand a price match. With far-reaching implications, a brand's diminishing control of pricing can squeeze margins and negatively affect profit across channels, as well as create channel conflict. When combined with stiff competition on the channel, brands are facing the very real risk of making little, and in some cases no profits on certain product lines.
With 1P, Amazon maximises profits by promoting the products yielding the best results. Amazon makes it clear to brands that some or all of their stock keeping units (SKUs) may not. be reordered if their pricing is uncompetitive. Brands therefore face significant margin pressure as the war to win the coveted Buy Box drives prices down. Those selling through third party vendors on Amazon (3P) face tough competition from rival vendors and an ongoing battle with Amazon's constantly evolving algorithms to achieve high-ranking listings.
How Blended 1P/3P works to take back command of your brand
However, brands combining 1P and 3P, for example by utilising a trusted partner like Luzern to manage the 3P business as a blended or "Hybrid " Model, retain autonomy over their pricing as it facilitates independent, strategic price changes. Combining first party sales (1P) with sales via legitimate partners who use Amazon as a platform to self-retail (3P), delivers flexibility and gives more control back to the brand. This model allows brands to build up listings and history, grow sales and increase margins, while protecting their direct customer relationships and avoiding channel conflict or price battles. Further autonomy can be achieved by brands meeting their customers' delivery demands via FBM (Fulfilled by Merchant). A partner such as Luzern can integrate directly to fulfil orders from a brand's own, or outsourced, warehouse.
The recent past has led to even more Brands finding themselves under extraordinary margin pressure when selling to Amazon directly (1P), which is generally triggered by a price war to win the buy box. Amazon will, of course, seek to maximize their margins and push the best sellers. They then make demands on the Brands for better prices or they may stop ordering some or all of the products. This can equate to millions in lost revenue in list suppression and stock-outs if the "demands" aren't met.
However, implementing a Hybrid 1P/3P strategy with a trusted third party provider (such as Luzern), Brands have price autonomy over their products as it facilitates independent price changes to suit your pricing strategy. A Hybrid approach delivers flexibility and gives more control back to the Brand.
In this five part series we look at the top five challenges faced by eCommerce Brands and share what's actually working when developing a modern marketplace presence to grow online sales, profitably. Stay tuned as we share Part 2 over the coming weeks.
The Amazon Specialist Team,
Luzern eCommerce