13 Brand Strategies for Black Friday & Cyber Monday in 2022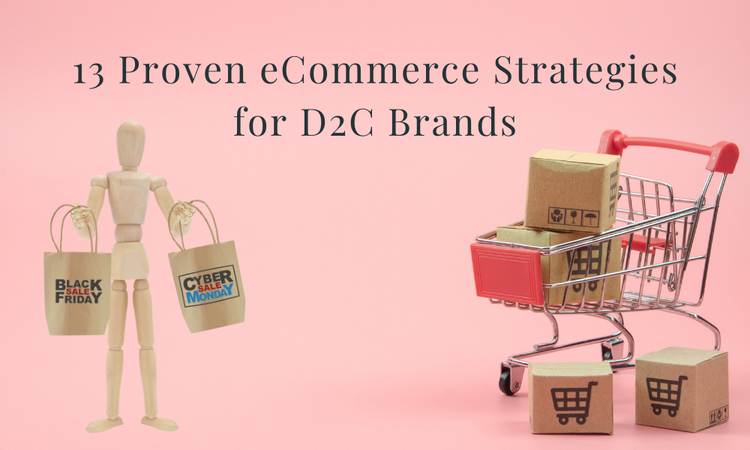 In this article, Luzern eCommerce explains the main things every brand needs to consider when planning for Black Friday sales. With over 15 years working with online retailers across the globe, we've seen the best of BFCM marketing strategies; we know what it takes to boost sales during this major shopping event. Read on to discover thirteen proven Black Friday marketing ideas.
Black Friday & Cyber Monday 2022: Proven eCommerce Strategies for D2C Brands
eCommerce brands have many opportunities to skyrocket their sales: but Black Friday and Cyber Monday (BFCM) are arguably the biggest of the year. For customers around the world, this weekend in November is synonymous with bargains—resulting in thousands of shoppers flocking to the checkout, whether in-person or via an online store.
So how can you prepare for BFCM in 2022? With a Black Friday eCommerce strategy. As online shopping continues to grow in its popularity, this will allow you to appeal to a larger market; as you entice new audiences and retain loyal customers. For sellers on Amazon, Black Friday and Cyber Monday sales can help you remain competitive as you tap into the platform's existing pool of purchase-ready users looking to secure a great deal.
In this eGuide, Luzern eCommerce explains the main points every brand needs to consider when planning for Black Friday & Cyber Monday sales.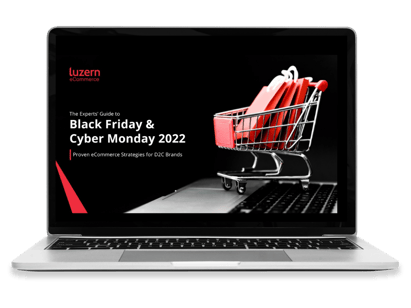 Black Friday vs Cyber Monday
Black Friday takes place on the day after Thanksgiving, while Cyber Monday is the Monday following Thanksgiving weekend. While the two are closely associated and are often referred to as one, there are some key similarities and differences to note.
As such, there are strategies you can employ for each. Below, we explore these—as well as explaining both days' origins, why they have become more popular in recent years; and how they have evolved in 2022 with the advent of platforms like Amazon.
About Black Friday Sales
While many believe Black Friday got its name from being the day that sellers went "into the black" - finally turning a profit for the year - its history goes back much further, to the early 1960s. Police officers in Philadelphia used the term to describe the day where crowds of tourists came into the city to begin their holiday shopping or to attend the annual Army-Navy football game on the following day.
To this day, Black Friday sales mark the start of the holiday shopping season. Traditionally, Black Friday has focused on brick-and-mortar stores—with widely discounted physical goods and larger ticket items.
About Cyber Monday Sales
Cyber Monday first came about in 2005, when the National Retail Federation reported a spike in online shopping on this day. Originally, Cyber Monday was designed to encourage and sustain this trend: and as more and more shoppers have moved online, this has certainly been the case.
Today, Cyber Monday is mostly focused on individual retailers: with discounts on electronics, appliances, clothes and digital goods.
13 Black Friday & Cyber Monday eCommerce Strategies for 2022
If you're a D2C brand on Amazon, there are a few things you'll want to keep in mind as you plan your holiday promotions. In the sections that follow, we'll take a look at some key considerations for pricing, product selection, and marketing. By taking the time to plan ahead, you can ensure that your Black Friday and Cyber Monday sales are a success.
1. Reward Your Loyal Customers to Increase Customer Lifetime Value (CLV)
That lucrative sale is more likely to happen if you recognise and reward loyal customers. To ensure the return of customers who check out your Black Friday deals - regardless of where they are shopping from - you need to deliver a personalised experience that goes beyond just design.
This can be achieved in the following ways, which happen to also boost CLV and customer retention rates.
Offer exclusive programs such as early access to products, or special events.
Ask for customer feedback and take steps to show that their comments have been listened to.
Celebrate your best customers on social media or on your website, thanking them for their business or positive reviews.
Offer a reward for referrals, whether it's a bonus, a free upgrade or a discount code.
Create a sense of community via a Facebook group or in-person events, where your customers can mingle and feel part of something bigger than themselves.
Black Friday deals will attract the attention of new customers; to secure their business beyond this shopping holiday, it's essential to make them feel that their purchase decisions are appreciated and valued. By taking the time to thank your customers in this way, you can increase customer lifetime value: securing long-term growth for your business in the process.
2. Timely and Relevant Communications
If a customer has made a recent purchase, your brand is still fresh in their mind. This is why timely communications are crucial; it's cheaper to retain customers than it is to find new ones. With the below tips in mind, you can ensure that your brand communications are not only well-timed but relevant to the needs of the customer.
Do:
Offer targeted and personalised offers to encourage further purchases beyond the Cyber Monday/Black Friday weekend.
Ensure your tone is consistent with your other branding - this creates a sense of trust, furthering their chances of choosing you over competitors in the midst of the holiday sales.
Use language that your customers use themselves - this may take a little research but can go a long way.
Don't:
Forget to include a clear call-to-action. The customer needs to know exactly what action to take to claim the deal.
Send the customer generic Cyber Monday or Black Friday promotions, which appear to be available to everyone. Instead, provide tailored recommendations based on their purchase history - with marked-down prices and bundling.
3. Reactivate Previous Customers
As an Amazon seller, it's always a good idea to keep former customers coming back for more. Why not reach out and let them know about any BFCM offers you have going on? You never know, they might just take you up on your offer and purchase from you again—which is all the more likely since they've bought from your online store in the past.
Here's how to reactivate previous customers in just a few simple steps:
First, take a look at your customer data to see who hasn't shopped with you in a while. This will give you a good starting point for your reactivation efforts.
Next, reach out to these customers and let them know about your upcoming Black Friday and Cyber Monday deals. Be sure to personalise your messages, as this will help increase the likelihood that customers will take action.
Finally, create a sense of urgency by offering limited-time discounts or free shipping for orders placed on these days. This will help encourage customers to shop with you before it's too late.
4. Use Digital Coupons
Black Friday and Cyber Monday discounts are even more significant when combined with digital coupons. These coupons, for example, often provide a percentage off the total purchase price or a fixed dollar amount that can be applied to the order. In some cases, digital coupons may also offer free shipping or other benefits.
Shoppers typically feel better about entering a one-time unique code and are therefore more likely to take advantage of that code, rather than a blanket deal available to everyone. In today's digital Christmas season, shoppers are typically open to preloading coupons on their devices and searching for deals at checkout.
By taking advantage of digital coupons, shoppers can save even more money on Black Friday and Cyber Monday—while acting as a powerful incentive which drives lucrative success for retailers.
5. Use Category-Specific Sales
As Black Friday and Cyber Monday sales have begun to start earlier and earlier, sellers have had to find new ways to stand out from the competition. One way they can do this is by offering category-specific discounts.
This means that, instead of offering a small percentage off your entire selection, you offer a larger percentage off specific pages. For example, you could offer 20% off all clothing items, or 50% off all toys. This can be a great way to attract shoppers who are specifically looking for those items.
Additionally, it can help you clear out inventory that you might otherwise have difficulty selling. By offering category-specific discounts, sellers can attract more shoppers and move more inventory.
6. Offer Competitive Pricing for Your Black Friday/Cyber Monday Sale
As the holidays approach, many Amazon retailers begin to offer steep discounts on their products in order to entice shoppers. To maximise sales during Black Friday and Cyber Monday, it's important to update your pricing strategy—while still ensuring that price points help you achieve your business goals in the long run. With an Amazon Hybrid Selling Model, you have the freedom to do this
Your Amazon business can manage price points by:
Offering discounts on multiple products rather than just one or two. This will give shoppers more incentive to purchase from you, and it will also help to boost your overall sales figures.

Taking a look at what other sellers are offering and making sure that your prices are in line with theirs. Keep in mind that shoppers are often looking for the best deal possible, so it's important to offer fair prices.

Updating your shipping rates. Many shoppers are willing to pay a bit more for faster shipping, so consider offering expedited shipping options during the holiday season.
By following these tips, you can ensure that your products are priced competitively and that you see a surge in sales during Black Friday and Cyber Monday.
7. Focus on Average Order Value
While it's tempting to offer blanket discounts and focus on increasing the number of orders during the holiday shopping season, it's actually more important to focus on average order value (AOV). AOV is a measure of how much each customer spends, on average, during a transaction.
For example, if your AOV is $100 and you increase orders by 10%, you'll only see an extra $10 in revenue. But if you increase AOV by 10%, you'll see an extra $20 in revenue. As you can see, a small increase in AOV can have a major impact on your bottom line.
So when it comes to Black Friday and Cyber Monday sales, focus on AOV and you'll be sure to boost your bottom line—while also offsetting advertising costs.
8. Add New Product Offerings & Bundles Based on Online Shopping Data
It's important for Amazon sellers to understand who their customers are, and how they like to shop. You can use customer behaviour data to understand their digital footprint, gaining insight into what that means for your brand and selling strategy—especially around the holiday season.
Based on these insights, brands can offer new products and unique bundles. This can include:
New product offerings, whether it's an item that's just been released or something that's been popular and is now out of stock.

A unique bundle of products that are all related to each other, or something that's never been offered before. Whatever you choose, making sure it's based on buyer behaviour is key.

Adding a time-limited black Friday bundle to boost sales over this weekend. Advertising the fact that it's a "Black Friday exclusive" always helps!
Giving the customer what they want and an attractive price point will always pique their curiosity.
9. Be Smart with Your Black Friday Marketing Spend
In the run-up to BFCM, the advertising spending for most brands will jump. Many are happy to increase the spending as they see sufficient RoAS in this period, but they can also be a huge drain on your finances if you're not careful. That's why it's important to be smart with your ad spend in the lead-up to these sales.
Here are a few examples of how to create efficient Cyber Monday/Black Friday marketing campaigns:
If you increase budgets to drive traffic, it makes sense to also be smart about bottom-of-the-funnel tactics. For example, if your products are selling on Amazon, be sure to spend money carefully at the SKU level to drive conversions.

Focus on relevant keywords. There's no point in bidding on keywords that no one is searching for. Instead, focus on keywords that are relevant to your products and that people are actually searching for. This will help ensure that your ads are being seen by people who are interested in what you're selling.

Track your results and keep an eye on your click-through rate (CTR) and cost-per-click (CPC). If you see that your CTR is low or your CPC is high, that's a sign that you need to adjust your campaign. Don't be afraid to experiment with different ad copy, targeting, and even bid amounts until you find what works best for you. The key is to constantly be testing and tweaking until you find a campaign that is profitable.
10. Start Advertising Early
In addition to being smart with ad spending, you'll want to start advertising early - but not too early. This rings particularly true if you're looking to host an entire Black November, as brands are doing more and more these days.
If too early, your ads could get buried in the noise of all the other Black Friday/Cyber Monday sales. If too late, you risk missing out on all the potential customers who are already starting their holiday shopping. The sweet spot is usually around 1-2 weeks before the actual holiday.
By doing so, you'll be able to reach potential customers before they're bombarded with holiday deals from other businesses. And when it comes to targeting keywords, don't forget to include popular holiday search terms like "gift ideas" and "Christmas gifts." By following these simple tips, you can give your business the boost it needs to thrive in this busy season.
11. Sharpen Your Cart Abandonment Rate Strategy
Nothing is more frustrating than working hard to get a customer to your Amazon store, only to have them abandon their cart and leave without completing the sale. Fortunately, there are a few things you can do to reduce cart abandonment and lost sales over the holiday shopping period. One approach is to send friendly reminders to customers who have abandoned their carts. These reminders can be customised to include information about the items in the customer's cart, or you can set up time-based prompts that remind the customer to complete their purchase before it expires. By using a combination of these strategies, you can make sure that no sale is left behind.
12. Use Your Email List to Your Advantage
If you have an email list, you can use it to maximise your sales, as you educate, up-sell and cross-sell during the BFCM holiday rush. Here are a few tips for using your email list to the benefit of you and your customers:
Start by sending out a preview email a few days before Black Friday, letting your subscribers know what deals will be available.

Then, on Black Friday and Cyber Monday itself, send out regular emails highlighting different deals and products. Make sure to include strong calls to action and plenty of links so that people can easily find what they're looking for.

Finally, follow up with a post-sale email thanking your customers for their business and letting them know about any upcoming sales or promotions.
13. Extend Your Sales From Black Friday Until Cyber Monday & Beyond
Year after year we see the "Black Friday" theme, and timeline, growing! However, many businesses make the mistake of only offering discounts for a day or two. The truth is that Black Friday and Cyber Monday have become such big shopping events that they often last for weeks. By extending your sale, you'll be able to draw in more customers and sales. Additionally, you can use this extended sale period to get rid of older inventory or clearance items.
How Luzern Helps Online Retailers with Black Friday & Cyber Monday Strategies
eCommerce brands have many opportunities to skyrocket their sales: but Black Friday and Cyber Monday (BFCM) are arguably the biggest of the year. For customers around the world, this weekend in November is synonymous with bargains—resulting in thousands of shoppers flocking to the checkout, whether in-person or via an online store.
If you're looking to capitalize on Black Friday and Cyber Monday sales, Luzern eCommerce can help. We have 15+ years of experience in helping Brands like yours and we know what it takes to generate results. In this eBook, Luzern eCommerce explains the main points every brand needs to consider when planning for Black Friday & Cyber Monday sales.