Celebrating St. Patrick's Day with Luzern eCommerce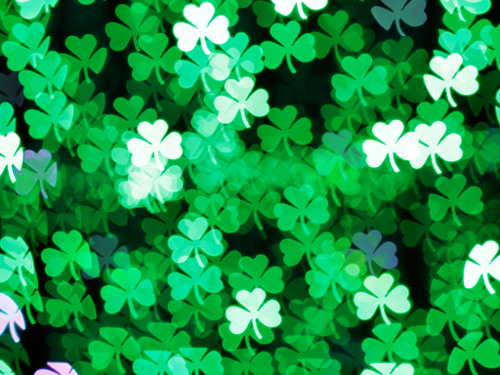 Saint Patrick's Day is a great time to celebrate all things Irish, it's also a great time to recognize the growth of one of Europe's most important economic sectors – eCommerce. Luzern eCommerce, an Irish company based in Dublin, is proud to be part of this growing industry and wants to highlight key trends and stats to illustrate just how much European eCommerce will grow over the next few years.
European eCommerce market worth €1.04 trillion by 2026
According to the latest figures from Statista, the European eCommerce market is estimated to reach €1.04 trillion (US$1.1 trillion / £912 billion) by 2026. This shows that Europe is an influential force in the digital economy and a key driver for global commerce. With 523 million active customers in 2022, it's clear that Europeans are embracing online shopping at an impressive rate.
In addition to the large markets like Norway, Germany and the UK which already have high levels of eCommerce penetration – around 80% or higher – there is still potential for further growth in smaller economies such as Greece, Portugal and Poland where penetration rates are lower but rising steadily. This means that companies like Luzern have a unique opportunity to tap into these untapped markets and drive their business forward.
Another thing driving the growth of European eCommerce are consumers who use online shopping channels on average 62% of the time. This figure is only expected to rise as more people become comfortable with making purchases online due to convenience, affordability and accessibility factors offered by digital stores. As more consumers move away from traditional brick-and-mortar stores, companies like Luzern need to make sure they keep up with these trends and remain competitive in this rapidly changing environment.
The Resurgence of eCommerce in Europe
The European eCommerce market experienced a startling downturn in 2022, posing significant challenges to businesses and consumers across the continent. However, recent forecasts predict a strong rebound in the coming years, with substantial year-on-year growth expected. In this blog post, we explore the causes of this dip, the potential driving factors behind the resurgence, and what the future holds for eCommerce in Europe.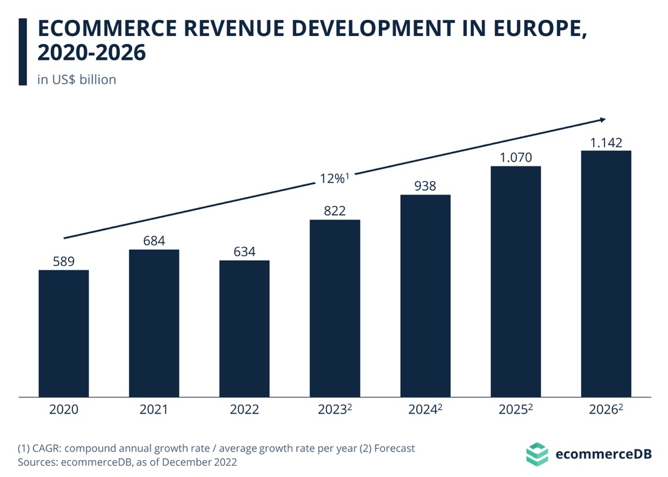 Projections for 2023: A Strong Rebound from the 2022 dip
The tide seems to be turning for the European eCommerce market in 2023, with industry experts predicting a robust rebound - almost 30% year-on-year growth forecasted for 2023. This projected growth can be attributed to factors such as renewed consumer confidence, increased adoption of digital-first business models, and advancements in virtual customer experience technologies.
The 2022 dip in European eCommerce left stakeholders questioning its causes and potential long-term impacts. Europe's 2022 eCommerce revenue: US$634 billion, a -7% drop from 2021's US$684 billion - A challenging year for European eCommerce.
The decline was attributed to pandemic-related factors, supply chain disruptions, and inflation concerns, among other issues. Additionally, consumer behavior shifts and technological advancements also played a role.
Europe's Global Standing in eCommerce
Europe remains a powerhouse in the global eCommerce market. With increased investments in digital infrastructure and a surge in online consumer spending, the continent has the potential to compete on a global scale and challenge the dominance of China and the US.
Future Outlook: A Bright Horizon for European eCommerce
The forecasted growth metrics for the European eCommerce market paint a bright future for the industry. With a projected CAGR of 12% from 2022 to 2026, the sector is expected to flourish and surpass US$1.1 trillion in market volume by 2026. This growth will not only contribute to Europe's economic prosperity but also drive innovation and competition in the global eCommerce landscape.
Conclusion
The 2022 dip in European eCommerce revenues may have sparked concerns, but the latest projections indicate a resurgence – signaling a promising future for the industry. As online shopping continues to permeate everyday life, advancements in technology and digital infrastructure will enable Europe to maintain its position as a global eCommerce contender. Businesses and consumers alike must stay informed and prepared to seize the opportunities that this rapidly growing market presents.
ABOUT LUZERN ECOMMERCE
Luzern eCommerce helps brands grow their eCommerce businesses—across platforms and channels which include Amazon, webstores, social media and other marketplaces. With Luzern eCommerce, your brand can meet buyers where they like to shop. We excel at the execution end of eCommerce, bringing speed and agility to ensure fast time to value for the businesses we service.
Channel Optimizer - our managed eCommerce acceleration platform - optimises sales, margins and inventory across channels and geographies for brands across the globe including Philips, Fossil, JDE coffee, Petsafe, HTC and Nestle.
Speak to us today about the growth potential for your business on Amazon & Other Marketplaces. We look forward to helping you reach new heights!