Making the most of the online marketplace revolution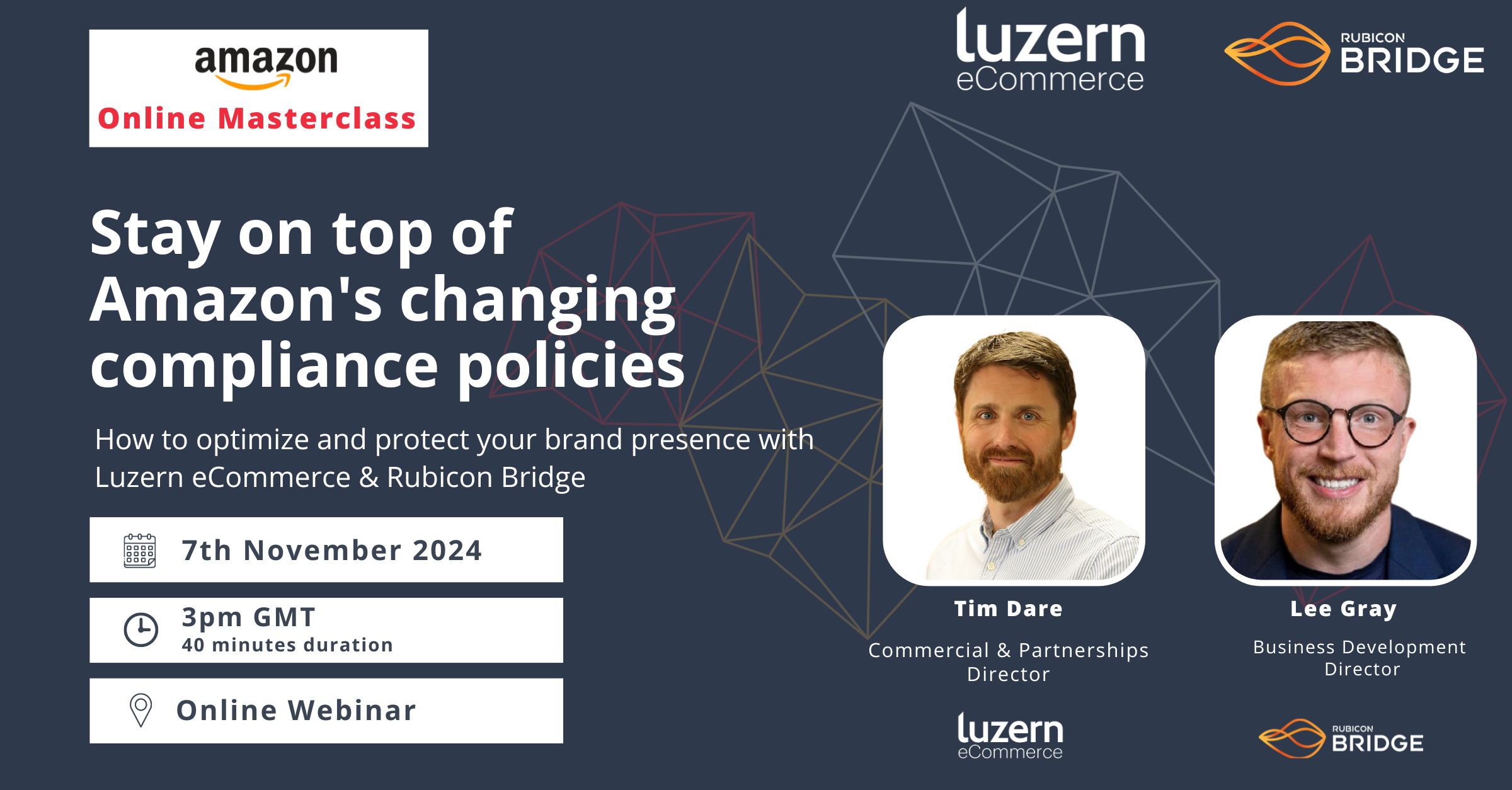 Today's customer expectations are higher – in terms of price, ease of purchase, ease of return, and quality of delivery – all need to be seamless and flawless. Moving into new marketplaces is complex and can be messy if not approached correctly. This article from our VP of eCommerce, Alan Chester, will look at why brands need a complete go-to-market strategy to expand beyond Amazon into more specific target marketplaces.
By Alan Chester, VP of eCommerce at Luzern.
It is a great time to be a consumer
Never before has there been so much online choice. One of the consequences of the pandemic is that eCommerce growth has been explosive. A report from McKinsey shows that the peak three months of Covid-19 saw the US e-commerce market gaining ten years' worth of growth. Although this is terrific news for the economy, it presents time-critical challenges for brands who want to compete in this expanding sector.
Is the growth all driven by Amazon? Not anymore – it is driven by eCommerce marketplaces looking to emulate the success of the market leader. Customer behaviours are also becoming more targeted as the impact of Covid-19 catalyses more support for local and more specialised marketplaces. The unprecedented increase in online platforms gives consumers significantly more options in terms of where to spend their money, and it is critical that brands adopt a multi-channel strategy to ensure their products can be found everywhere that their customers may be.
online marketplaces
The obvious route would be to use Amazon, but in today's eCommerce landscape that would be akin to only having a shopfront in a capital city and ignoring all the potential in the rest of the country. Brands are recognising the potential of a multi-marketplace approach and key eCommerce players around the world – Walmart, eBay, Best Buy – are enjoying spectacular growth and increased shopper numbers. Regional marketplaces including Allegro in Poland, Bol in the Netherlands and OnBuy and Debenhams in the UK are investing in marketing and advertising to raise their profiles. Specialist sellers such as ManoMano and Zalando are diversifying beyond their traditional markets and products, working on developing total fulfilment services including warehousing and delivery. They are looking to compete head-to-head with Amazon, and brands need to join the revolution.
ecommerce industry
The world of eCommerce is evolving rapidly, and brands that want to compete effectively in the multi-marketplace space must move fast with a clearly defined strategy. Consumer expectations have never been higher – and those expectations have largely been set by the success of Amazon. Consumers expect the purchasing process to be smooth and seamless, from the moment the decision is made to buy, right through to the payment, fulfilment, and further on to the returns and refund procedures if necessary. Different currencies, changing financial regulations across multiple jurisdictions, cross-border transactions and import and export rules all need to be understood and incorporated. Brands need strong partnerships across national and international markets in order to fully benefit from a multi-marketplace presence.
But take a step back from that. There is specialist skill behind getting those customers to actually make the decision to purchase in the first place. With the proliferation of online marketplaces, the way that products are displayed, the quality of the images and the detail of the description – each is a critical component in the competition to win the consumer spend. Brands and products need to be presented and showcased in a consistent manner across marketplaces, both to protect the brand image and to build familiarity with consumers roaming around different platforms.
Initiating relationships with emerging platforms is essential, to get ahead of the competition and to take advantage of new marketplaces' marketing and advertising activity. Testing out new marketplaces that are fresh to the sector also gives brands the chance to try out ideas, conduct consumer research across diverse channels, and share in the momentum created by these new players.
The eCommerce sector is thriving and is set to continue that way. A multi-marketplace presence is essential – if customers don't discover you, they can't buy from you – and that revenue goes elsewhere. Brands that do not seize the opportunity to reap the benefits will not be the leading brands of the future.
About Luzern ecommerce
Luzern eCommerce helps Brands accelerate eCommerce business and meet buyers where they like to shop: on Amazon & Other Marketplaces, direct on a branded online store, and on their favourite Social platforms.
We excel at the execution-end of eCommerce, bringing speed and agility to ensure fast time to value for our customers. By using our deep expertise and technology, we extend your eCommerce capabilities to attract and convert buyers, boost margins and improve customers' experience of your brand. Channel Optimizer, our managed eCommerce acceleration platform, optimizes sales, margins and inventory across channels and geographies for brands across the globe and is trusted by Philips, Fossil, JDE coffee, Petsafe, HTC and Nestlé.
For more information contact: hello@luzern.co