Top Trends Shaping the Beauty, self-care and Cosmetics Industry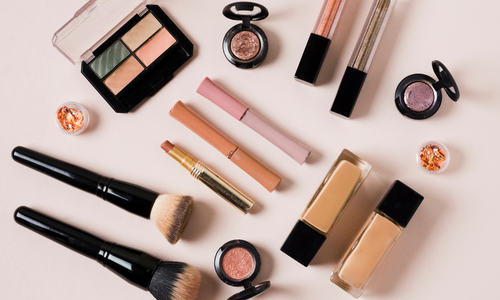 From omnichannel shopping experiences to personalized beauty offerings, these trends are ushering in an exciting time for retailers as they look for innovative ways to connect with their customers and drive loyalty. By staying ahead of the curve, brands can capitalize on emerging opportunities and build long-lasting relationships with their customers.
The beauty and cosmetics industry has experienced a surge in online sales in recent years. This shift has created a new opportunity for brands to reach out to a wider customer base.
With the global beauty business expected to reach $131 billion by the end of 2023, here are top trends shaping the industry.
1. Omni-channel - Shoppers want the best of in-store and online
The ever-evolving retail landscape means that brands must be agile and embrace new trends to stay ahead of the competition. One of the biggest trends to emerge in recent years is the omnichannel approach, which combines the best elements of online and in-store shopping. By embracing an omnichannel approach, brands can capture and retain more customers than ever before. The omnichannel approach is all about creating a seamless experience across all channels. This means that customers should be able to shop online and in-store without missing a beat. Customers should be able to browse and purchase products on any device they choose, with the same level of convenience. Brands should also ensure that there is a consistent look and feel across all channels, to ensure that the customer experience is consistent no matter which channel they use.
2. Consumers expect beauty offerings to be personalised
Another trend that is transforming the retail landscape is the rise of personalized beauty offerings. Consumers are becoming increasingly demanding when it comes to their beauty needs, and are expecting brands to offer personalized experiences tailored to their specific needs. According to a study by McKinsey & Company, 71% of consumers expect companies to deliver personalized interactions and 76% get frustrated when this doesn't happen. The key to providing personalized experiences is understanding customer needs and preferences. This means collecting data about customers through surveys, focus groups, and market research. Companies should also look to leverage technology such as artificial intelligence and machine learning to better understand their customers and provide more customized experiences.
Brands should then use these insights to tailor their offerings to the individual customer. By understanding and catering to a customer's specific needs, brands can create a personalised experience that goes a long way in terms of customer retention.
3. Brands will look to AI to innovate individual offerings
By 2023, beauty brands will have further embraced the use of artificial intelligence (AI), allowing them to innovate their individual offerings. AI can be used to create personalized experiences for shoppers online and also tailor formulas to individuals' specific skin types and lifestyles. This is a big step forward in personalization for the beauty industry, enabling customers to easily find the right products for them without compromises. AI-enabled individualization also allows brands to create truly unique solutions that are optimized for each person's needs, offering a whole new level of customization and convenience. As this technology becomes more widespread and accessible, beauty shoppers should expect to see an increase in tailored options that meet their very specific requirements.
4. Loyalty programs continue to win over customers
Loyalty programs are going strong and proving that brands that offer attractive loyalty benefits that meet the needs of modern consumer preferences increase engagement and retention. In a recent study 56% of global consumers said they're more likely to buy from a brand with a loyalty program.
Free Gifts, bonus points and discounts as perks all attract shoppers to sign up. Another key reason customers join loyalty programs is the feeling of exclusivity they offer. With a loyalty program, members get access to unique experiences, products and events that other shoppers can't take advantage of. Gamification, which involves elements of game-playing like scoring points and achieving rewards or milestones, encourages customers to revisit the brand and continue engaging with it. This can include reward tiers that unlock exclusive products, discounts, or even experiences when they reach a certain level.
Beauty brands are increasingly leveraging technology to provide a more seamless loyalty program experience for their customers. This includes utilizing mobile apps, digital wallets and even blockchain technology to make it easier for customers to sign up and earn points, as well as redeem rewards.
5.

Brands to innovate with AR & VR try-o

n
Augmented Reality (AR) and Virtual Reality (VR) are revolutionising the way people interact with products and services. Beauty and cosmetic brands are leading the charge when it comes to AR & VR. They use these virtual experiences to let their customers test out different looks without having to physically visit a store or salon.
Social commerce platforms like Instagram and Snapchat are also playing an important role in allowing people to discover new products through their filters or lenses. With 3D/AR content, brands can offer customers a more engaging shopping experience. Fopr example, Ulta Beauty and Estée Lauder have built tools to allow consumers to virtually try on makeup. This helps their customers to make better decisions and increases the chances of a higher conversion rate for the brands.
With more brands innovating with AR & VR technologies, we can expect social commerce platforms to become even more popular in 2023.
6. Brands to partner with authentic influencers
Influencer marketing trends will shift in 2023. brands will focus on the engagement rate of the influencer rather than those with the largest numbers of followers.
Authentic influencers are real people who don't rely on photoshopping to promote products. Instead, they use their own authentic experiences and their own opinions to engage with their followers.
When selecting influencers for brand partnerships, we will see more authentic people promoting brands, that said, celebrity endorsements will still be a huge factor! By partnering with authentic influencers, beauty brands can showcase their cosmetics in a more genuine and relatable way. This can help them create an emotional connection with their customers and drive sales of their products.
When recently surveyed, 42% of consumers say that user-generated content was most influential when making beauty, health, and wellness purchasing decisions–only 10% said influencers were the most influential.
Beauty brands have been making strides to become more inclusive and diverse in their campaigns, with a focus on using influencers from different backgrounds and ethnicities. This shift has been driven by the desire to better reflect the diversity of their customer base, as well as to create campaigns that are more relatable and authentic. By using influencers who come from different cultures and backgrounds, beauty brands can create content that resonates with a wider audience. Additionally, this approach can help build trust between customers and the brand, as it demonstrates an understanding of the needs of all customers.
7. Social Commerce - Generation Z look to buy socially
Generation Z will drive the growth of social commerce in 2023. As digital natives, their familiarity and comfort with digital platforms make them more likely to buy goods through social than any other age group. Gen Z adults are twice as likely to use a mobile device for purchasing within a social network than millennials, while teens in this age group are almost three times more likely to do so than millennials.
These young people are using social media to research products and connect with brands before making a purchase, as well as making the actual purchase on the platform itself. Gen Z is more likely to make impulse purchases through social media than other generations, often influenced by influencers or their peers' posts about a product or brand.
TikTok is becoming a hub for beauty content and the platform has made it easier than ever to access educational beauty resources. With 107.8 billion views and counting, it's one of the biggest product categories on TikTok due to the platform's ability to make learning about beauty more fun and engaging. In fact, people who use TikTok for beauty-related content are 1.6 times more likely to return for similar content and products in the future. Gen Z consumers are increasingly turning to TikTok when looking for inspiration and advice on beauty and skin care products, surpassing Snapchat and Pinterest yet significantly behind Instagram and Facebook.
By creating content that is tailored to Gen Z's needs and interests, brands can build trust and loyalty with their customers, ultimately leading to greater sales opportunities. With Social commerce increasing popularity among Gen Z consumers, it presents a great opportunity for beauty brands to tap into this valuable market and make an impact.
8. Beauty subscription boxes will continue to soar
Nearly a third of all US consumers signed up for a retail subscription box as of last year—spending $57 a month on average.
Beauty subscription boxes remain a great way for the cosmetics industry to retain More than a quarter of worldwide subscriptions come from beauty and personal care.
The beauty industry is constantly evolving and it can be hard to keep up with the latest trends. By understanding these 8 predictions for 2023, you can ensure that your business is ahead of the curve and prepared for what's to come. If you want to learn more about how these trends will impact your specific business, please don't hesitate to get in touch with us today. We would be more than happy to discuss the growth potential for your company and help you make informed decisions about the future of your business.
About Luzern eCommerce
Luzern eCommerce helps brands grow their eCommerce businesses—across platforms and channels which include Amazon, webstores, social media and other marketplaces. With Luzern eCommerce, your brand can meet buyers where they like to shop. We excel at the execution end of eCommerce, bringing speed and agility to ensure fast time to value for the businesses we service.
Channel Optimizer - our managed eCommerce acceleration platform - optimises sales, margins and inventory across channels and geographies for brands across the globe including Philips, Fossil, JDE coffee, Petsafe, HTC and Nestle.
Speak to us today about the growth potential for your business on Amazon & Other Marketplaces. We look forward to helping you reach new heights!