Unveiling Successful Strategies for the Modern Marketplace: No "Tricks"!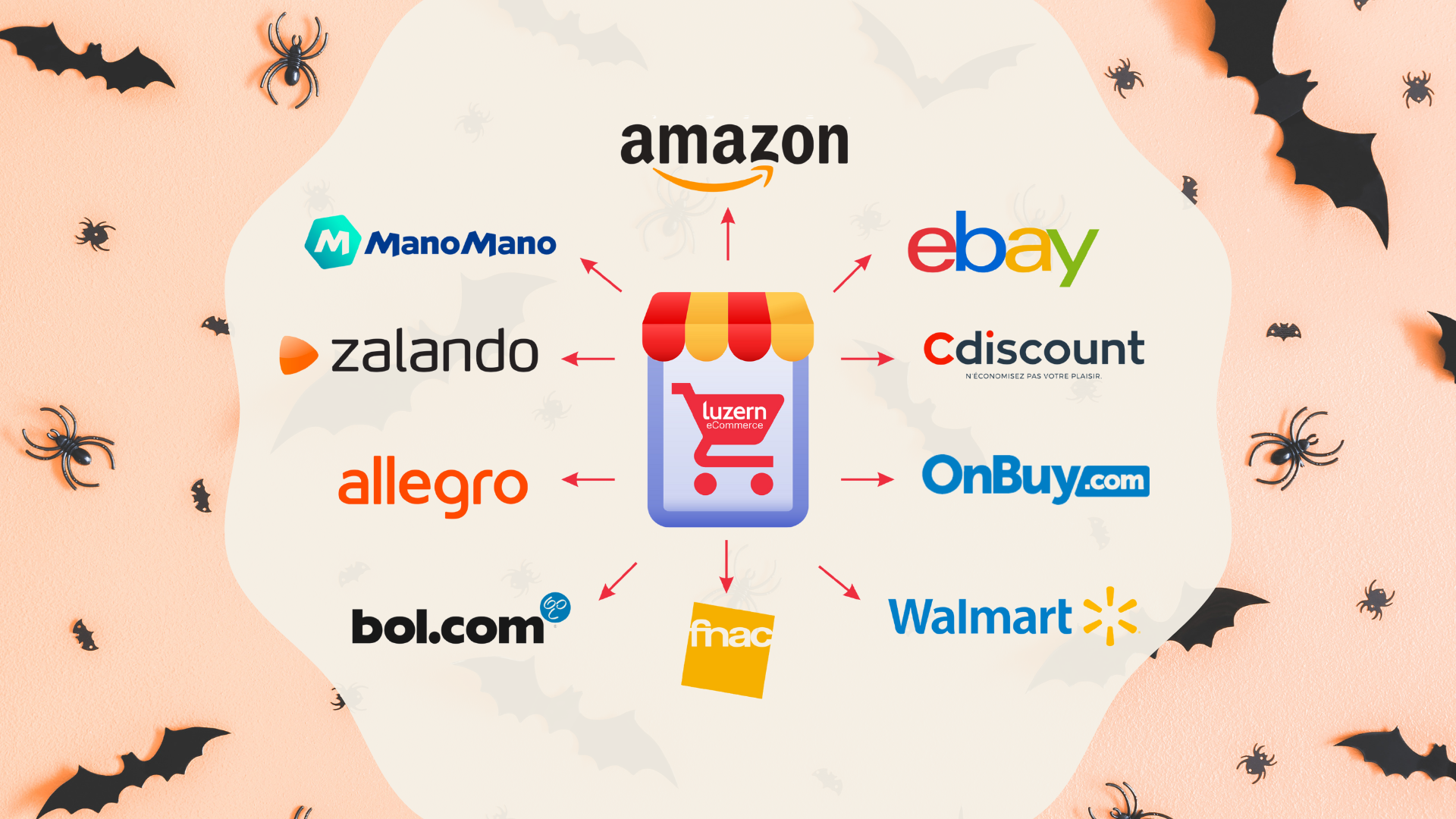 We won't be talking about tricks today. Instead, let's look at how your brand can uncover the treats within online marketplaces, with a business-like approach, and a nod to the spirit of the season.
The Marketplace Landscape
In recent years, the business landscape has undergone a profound transformation, akin to the ever-changing costumes on Halloween night. The surge in online marketplaces, such as Amazon, eBay, and Walmart, has enveloped the retail sector, offering a diverse range of products and services from various brands.
Amazon's Allure
Amazon's marketplace is an enticing prospect for brands, one that's difficult to escape. Brands can't afford to overlook the allure of Amazon's virtual aisles. Although anyone can sell products on Amazon, selling profitably is another, sometimes ghostly story. Selling on Amazon can be challenging, even for the most established Brands with long-standing relationships with Amazon. Luzern eCommerce helps Brands navigate the complexities, from the fundamentals to the development and roll-out of complex go-to-market and Hybrid 1P/3P selling strategies.
It's about delivering the now expected "treats" to the modern consumer:
Convenience: Shoppers today seek the same ease and convenience as trick-or-treaters going from door to door. They want seamless transactions, swift shipping, and a one-stop shopping experience.
Speed: Amazon's swift delivery and Prime service provide instant gratification to consumers, much like the quick acquisition of Halloween sweets.
Price: Just as a bowl of candy lures trick-or-treaters, Amazon's competitive pricing appeals to cost-conscious consumers.
Amazon Marketplace Challenges for Brands
While Amazon offers a treasure trove of opportunities, brands should tread carefully, much like navigating a haunted house:
Brand Control: Maintaining a consistent brand image across the diverse Amazon marketplace can be as challenging, like dealing with ghosts in a haunted mansion.
Price and Margin Control: The competitive nature of Amazon can lead to price wars, impacting your profit margins. Lost control over pricing can impact all channels.
Channel Conflict: Selling on Amazon may create conflicts with traditional retail partners, necessitating careful management.
List Suppression: Product SKU can be suppressed or pulled.
The Luzern eCommerce Proposition to drive sales on Amazon & other Marketplaces for your Brand.
In the world of online marketplaces, Luzern eCommerce offers a compelling proposition – one that's more "treat" than "trick":
eCommerce Platform + Managed Services: Luzern eCommerce provides an all-in-one solution, combining a robust eCommerce platform with comprehensive agency services. We offer brands the expertise they need to thrive in the modern marketplaces environment.
Amazon 1P/3P Strategy For a well-rounded strategy, Luzern eCommerce offers a managed 3P capability, paving the way for a hybrid approach that combines the best of both 1P and 3P strategies.
Scalability and Market expansion: Just as a treasure map leads to hidden treasures, Luzern eCommerce offers scalability and geographic coverage, enabling brands to expand their presence across marketplaces and regions.
As we approach the end of October, it's evident that marketplaces are not just a passing ghostly presence – they are the future of retail. Amazon, as the largest and most influential marketplace, offers a treasure trove of opportunities, once it is managed in a way that overcomes the challenges.
Here are our recommendations to ensure your brand enjoys the "treats" and avoids the "tricks" in the marketplace:
Marketplaces are the Future: Just as traditions endure, marketplaces are here to stay. Brands can't afford to miss out on the opportunity they present.
Talk to us, we're not scary!
Luzern eCommerce has gained unrivalled knowledge through supporting a wide range of leading brands on the Amazon platform over the past 15 years and is now within the top 1% of sellers. In recent years we have extended this expertise and integrated with leading marketplaces including Allegro, Bol.com, ManoMano, Zalando, FNAC, cDiscount, OnBuy and Walmart as well as extending our Managed 3P support for Brands selling on Amazon and eBay.
Brands can see Amazon as a monstrous marketplace when it comes to profitability, a necessary evil. However, brands can partner with Luzern eCommerce to take back control and protect their Brand presence, position against and beat competitors, and grow online sales, profitably. We achieve this by complementing your brands' Amazon 1P (first-party vendor) strategy through executing an Amazon 3P (third-party seller) strategy that is specifically tailored to meet your goals. We successfully manage this model to ensure your brand stays in control of pricing and maintains a direct relationship with your customers, whilst extending your inventory and driving sales of additional product lines beyond 1P.
Concluding Recommendations:
Multi-Channel Strategy Management: In the short term, brands should focus on developing and managing multi-channel strategies within the complex marketplace environment. This involves building expertise in operating across various marketplaces, including Amazon.
Marketplace Omni-Channel Optimization: For lasting success, brands should consider marketplace omni-channel optimization as a central strategy. This means ensuring a consistent brand image, pricing, and customer experience across different channels.
In this era of rapidly evolving commerce, marketplace opportunities abound. Brands that embrace these changes and formulate comprehensive strategies will be well-positioned to enjoy the "treats" that the digital marketplace has to offer, without any of the "tricks." For further insights and guidance, remember to reach out to Luzern eCommerce – your partner in optimizing brand experiences in the marketplace environment. May your business endeavors be full of "treats"!
Speak to us today about the growth potential for your business on Amazon & Other Marketplaces. We look forward to helping you reach new heights!