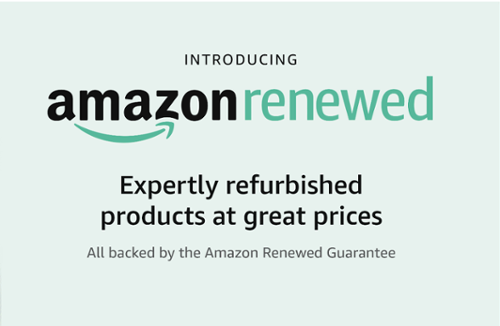 In this article, we explain how to mitigate the risks that come with Amazon Renewed, and how Luzern eCommerce can help you drive sales on the platform.
What is amazon renewed?
Amazon Renewed is a platform selling refurbished products. Products on Amazon Renewed go through an inspection and testing process before reaching buyers - who can access a wide range of secondhand items.
Types of Products on Amazon Renewed
Amazon Renewed sells:
Previously owned/open-box products

Rebuilt and refurbished items

Former display models.
These products are priced as a bargain but naturally come with the potential for more faults. For this reason, Amazon Renewed offers a guarantee that every item faces a quality inspection and testing process. The testing process typically includes an assessment for visible cosmetic imperfections, as well as a full diagnostic test certified by technicians or third-party refurbishment specialists. Any defective parts will be replaced.

For customers looking to save money, Amazon Renewed gives easy access to devices that operate as new, with the exception of a slightly reduced battery life. This comes with the model being a few generations older. The platform even offers the choice to download receipts to prove ownership if needed.


What Does Renewed Mean on Amazon?
Amazon Renewed was launched in 2017. Since then, it's evolved as a place for vendors to sell tech devices of all kinds, at a discounted price. Amazon employees are responsible for vetting listings for quality, as well as conducting a thorough cleaning process. When items and their packaging are determined to be almost "new-like", they receive the Amazon Renewed guarantee.
What Can You Sell on Amazon Renewed?
Because of Amazon's high standards, some refurbished products may not qualify for listing on the platform. You can, however, sell a wide variety of products which include:
Computers

Smartphones

Tablets

Cameras

Gaming equipment

Home and kitchen appliances

Office products

Smartwatches
These items come with all components and accessories—just like a brand-new item.


How to Sell on Amazon Renewed
There are a few things you need to know about selling on Amazon Renewed - below are the steps you need to take before getting started.
become a seller
First, you will need to create an account and register as a seller. Amazon will require your government ID, email address, phone number, and banking and credit card information.
Apply for the Amazon Renewed Guarantee
To meet the criteria for the Amazon Renewed Guarantee, you need to show experience selling similar items:
For new Amazon sellers, the platform requests invoice(s) worth $5000 or more, dated within 90 days prior to the application.
For existing Amazon sellers, you need to prove an Order Defect Rate (ODR) of less than 0.8% within this 90-day period.
Along with any supporting documentation, simply submit your application through the program page or email renewed-application@amazon.com. Most applicants can expect to receive a response within 10 days of applying.
How To List Factory Refurbished Products
You will need to submit eight or more images of the unit, for quality review. Your company must be willing to back all products, with a guarantee to cover claims under six months of warranty. This is where a functional inventory management system can help.
How To List Factory apple Products
To list Apple refurbished products, you will need to supply invoice(s) worth $2.5 million in the 90 days prior to application.
begin selling
Once you begin selling, you can optimise each product detail page to grow your audience reach. With the right keywords and product categories, you can create an optimisation strategy built for the needs of your target customer. This includes producing content with a tone and format that resonates with a particular buyer persona.
Pros of Selling on Amazon Renewed
Amazon Renewed has a number of advantages for online sellers. Generally, this can be attributed to the below reasons.
low competition
Amazon Renewed has very high vetting standards for sellers. This makes it an exclusive pool of sellers, with little competition on product niches. You gain more exposure for your items, to a readily available market. Unlike Amazon Marketplace, businesses don't have to compete in price wars with "race to the bottom" pricing.
strong consumer trust
Amazon is one of the world's biggest companies, and has various buyer satisfaction checks in place. In becoming a seller, your business can access existing buyers searching for relevant items. These users are primed and ready to purchase your items - at a reduced price.
greater security
With Amazon's backing, your brand can offer a 90-day guarantee. In other words, Amazon will gladly cover return costs for dissatisfied buyers—in the name of retaining their dominant market share.
cons of Selling on Amazon Renewed
Before getting started on Amazon Renewed, there are a few key cons to consider. If the below are deal breakers for your business, you may want to consider another platform.
Risk of High Return Rates
Refurbished products may have overlooked or unseen blemishes and technical failures; this is inevitable. Buyers may also have more concerns with regard to sellers' trustworthiness. Because of these factors, your business can naturally expect more returns within the 90 day window.
Higher Fees
The cost of joining Amazon Renewed is a little higher—meaning that you will need higher trade volumes, in order to sustain a high profit margin.
Get Started with Amazon Renewed
If the advantages outweigh the disadvantages for your business, Amazon Renewed could be worth exploring. In fact, it could be a very profitable endeavour - with Amazon's global user base and the support of the platform for warranty claims.
With Luzern eCommerce, you can easily manage your day-to-day on Amazon Renewed. Our solution is a user-friendly product, and is designed to help business owners like you. Get in touch today and discover the potential of managed eCommerce.