6 Burgeoning Amazon Growth Strategies in 2023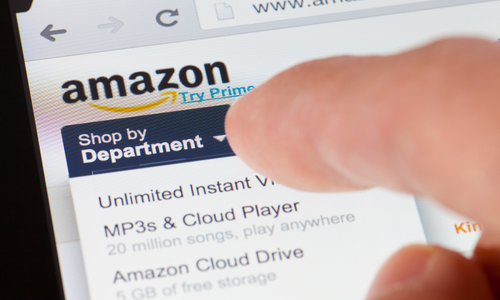 In this article, Luzern eCommerce explores the six essential aspects of business growth on Amazon. With these in mind, you can increase your market share: while ensuring the longevity of your business, as you continually align your business model with consumer trends and expectations.
As a multi-billion dollar business, Amazon is a major player in the eCommerce world. For ambitious brands looking to grow, Amazon Marketplace is the perfect platform to focus your efforts—as there's no sign of the platform slowing down in its growth over the next few years. The battle to get customers to choose your buy box on Amazon, instead of your competitors, is greater than ever.
But how can your business stand out in Amazon's saturated market?
This can be achieved by staying up-to-date with the latest and greatest Amazon growth strategies. By taking from the playbook of Amazon CEO Jeff Bezos, you can become a customer-centric company and provide a seamless shopping experience.
In this article, Luzern eCommerce explores the six essential aspects of business growth on Amazon. With these in mind, you can increase your market share: while ensuring the longevity of your business, as you continually align your business model with consumer trends and expectations.
1. Customer Centricity
Customers' buying motivations are constantly changing: and Amazon's success as a business can be partially attributed to its emphasis on the end user's needs. To appeal to shoppers in the same way, it's important to understand current buying behaviour: including their sales journey, how they like to shop, and current and future purchase drivers.
By taking the time to Know Your Customer (KYC), you can:
Attract a steady stream of new customers.

Fine-tune new product offerings to fit opportunities in the market, based on your target audience's wants and needs.

Ensure a constant point of difference between your offering and that of competitors.
For eCommerce businesses, tools can also provide insight into your customers' preferences. As an example of how you could use this data, you could innovate by bundling products together at a discounted price point. Bundling not only keeps the customer happy; it also increases your AOV (Average Order Value). This is a win-win for you and your customers.
Artificial Intelligence (AI) and cloud computing will continue to gain traction in 2023 and beyond. Brands will need to go one step beyond just analysis on a dashboard and, more importantly, find technology providers that give the capability to take immediate action on the insights gleaned from their analysis.
These solutions offer automated decision-making capabilities: with the potential to proactively manage sales margins, position against competitors, and drive conversions - all in real time.
2. Know Your Enemy
With more brands moving online, it's vital that you benchmark performance against key competitors. That means having the right analytics solution. With data insights gleaned from our platform, you can:
Gain visibility into the growth strategy of competitors who outperform you

Understand why online shoppers purchase from competitors

Be fully aware of the landscape, with reports specific to your brand and buyer behaviours

Monitor and respond to competitor price fluctuations, all while maintaining profit margins
With the help of Luzern eCommerce, you can gain a larger share of voice than mainstream brands: maintaining a competitive advantage. Ensure your brand is set up for success, and able to take on the competition today.
3. Make Sure the Price is Right
As mentioned above, it's no secret that the right product at the right price makes all the difference to your business' conversion rate. The recent past has led to even more brands finding themselves under extraordinary margin pressure when selling to Amazon directly (1P): which is generally triggered by a price war to win the buy box. Amazon will, of course, seek to maximise their margins and push the best sellers. They then demand that sellers reduce their prices, or they may stop ordering some or all of the products. This can equate to millions in lost revenue in list suppression and stock-outs.
Many of your competitors are already using pricing tools to leverage the marketplace. While repricing (via automated tools) is a common strategy, there are other factors you can focus on to get customers to pay a price that not only is attractive but suited to your pricing strategy to maintain profitability.
Namely, you can implement a Hybrid 1P/3P strategy with a trusted third-party provider (such as Luzern eCommerce). This provides brands with price autonomy over their products once again; delivering flexibility and the potential for authentic growth.
4. Increase Market Share with Advertising
There are many businesses advertising on Amazon. With a performance marketing strategy, you can maximise return on your ad spend—as you analyse and optimise your campaigns for success every time.
The in-house team at Luzern eCommerce can help your business to:
Drive conversions and clicks with keyword-rich ads

Optimise underperforming listings and campaigns

Maximise the relevance of your products to the user, with keyword optimisation

Gain a bird's eye view with one interactive dashboard, where insights are grouped by campaign, ad groups or individual ads

Explore emerging trends (e.g programmatic and video advertising), to help anticipates future content formats and needs
Improve Results Across the Entire Sales Funnel
With the help of Luzern eCommerce, your business can expand its reach with bottom-of-the-funnel advertising tactics—completely separate from your top of funnel traffic drivers. Instead, our campaigns focus on driving conversions at the SKU level.
Check out our Amazon Advertising eGuide
Ongoing Campaign Optimisation
The success of a campaign is one thing: the continued success of your advertising efforts is another. Because consumer demand is ever-changing, campaigns should be optimised to align with customer search data—in order to achieve your business objectives today and in the future. With ongoing refinement to your advertising model, your business can improve Advertising Cost of Sales (ACoS): as well as profits overall.
Automatic & Manual Sponsored Campaigns
Luzern eCommerce allows you to run automatic and manual sponsored campaigns in tandem: resulting in compounded exposure for your brand. On manual campaigns, we offer direct control over keyword bidding and implementation; while automatic campaigns work to increase sales even further.
For promotions in particular, you can use Amazon's Sponsored Brands feature to:
Defend your promotions as you run campaigns for all promoted ASIN's.
Target high-traffic category keywords that increase brand awareness.
Use Sponsored Brand Videos to promote any new ASIN's.
5. Optimise Your Listing with Content That Converts
To boost the visibility and sale of your products, it's crucial to optimise your product listings. By investing in professional product pages, you can improve the shopping experience, reach new markets, and increase the likelihood of purchase.
Luzern eCommerce offers comprehensive listing management, which includes the creation of:
Keyword-rich product descriptions, collaborated on by our SEO specialists and Amazon marketing teams.

Accurate and enticing feature bullet points, accompanied by high calibre imagery.
Optimising your product listings on Amazon is one of the most important things you can do to grow your brand and increase sales. In fact, optimisation will give your products the best chance possible to be seen by customers. Luzern eCommerce are experts in optimising product listings on Amazon, so if you want to see real results for your brand, speak to us today.
6. Improved Customer Experience - From Checkout to Shipping
By replicating Amazon's growth strategy, you can bring genuine value to your customers—who in turn, have the power to determine the long-term success of your business. This is why it's so important to select a fulfilment method that reflects your supply chain capabilities.
If you have stock in your own warehouse or even at another location, you can meet the demand from your customers by using Fulfilled By Merchant (FBM). A third-party partner, like Luzern eCommerce, can integrate directly to fulfil orders with ease.
When a customer places an order, Luzern eCommerce will take care of warehousing, order processing, shipping and delivery. We will also assume the responsibility of ensuring necessary stock levels so that all your items are ready for sale on Amazon.
This offers business owners peace of mind, as Luzern eCommerce gives brands more control over inventory and ultimately keeps the business moving. This fulfilment model enables you to:
Build up listings and history.

Grow sales and profit margins.

Protect existing relationships with customers.

Avoid channel conflict and "race to the bottom" pricing battles.



Replicate Amazon's Growth Strategy with Luzern eCommerce
The most profitable Amazon businesses have a mindset of endless improvement - never settling for "good enough". By putting the above strategies to work and partnering with a managed eCommerce provider such as Luzern, your business will thrive on Amazon; no matter what the future holds.
If you want to grow your brand on Amazon, it's important to take a holistic and comprehensive approach. Luzern eCommerce can help optimise your business operations—from understanding your customer to fulfilment and advertising. Our platform is a sophisticated upgrade to your business processes: built to optimise and sustain results, in a scalable and modular manner.
As a brand, Luzern eCommerce allows you to prioritise your needs as a business: creating a complete end-to-end solution, or something to complement existing systems. With our expertise and agile approach, you can take the heavy lifting out of eCommerce optimisation. Be agile and iterative in your processes as a business: and take control of how you sell online.
Luzern eCommerce helps brands grow their eCommerce businesses—across platforms and channels which include Amazon, webstores, social media and other marketplaces. With Luzern eCommerce, your brand can meet buyers where they like to shop. We excel at the execution end of eCommerce, bringing speed and agility to ensure fast time to value for the businesses we service.
Channel Optimizer - our managed eCommerce acceleration platform - optimises sales, margins and inventory across channels and geographies for brands across the globe including Philips, Fossil, JDE coffee, Petsafe, HTC and Nestle.
Speak to us today about the growth potential for your business on Amazon. We look forward to helping you reach new heights!