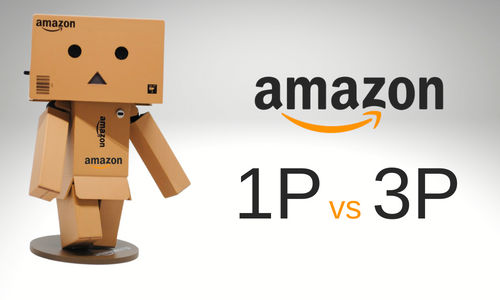 AMazon 1P vs 3P
Amazon sellers have a lot to consider when deciding how to sell their products. Should you use a 1P model, where you sell directly to retailers like Amazon? Conversely, a third-party relationship (3P) can allow you to sell via Amazon (as a platform) while retaining control over branding and pricing.
Luzern eCommerce explains the main things you need to know when comparing Amazon 1P vs 3P. At the end of the article, we share the benefits of a hybrid business model, which can help your eCommerce business drive sales and build brand presence.
What is Amazon 1P?
First-party sellers (1P) sell directly to Amazon — as a wholesale supplier. The process is as follows:
Amazon invites you as a 1P seller, by sending a purchase order for your products.

Once you've received and fulfilled Amazon's purchase order, your products will be owned by the platform.

Amazon now controls your pricing and shipping: acting as a "retailer" of your products. Every item sold via 1P will have "Ships from and sold by Amazon.com" on its product detail page.
You can, however, still edit and promote your listings so Amazon buys more of your best-selling items. Advertising tools can help you grow your brand, as you create product display ads, sponsored product ads or brand ads. For 3P sellers which we'll explore down below, only Buy Box winners can access these features. Note that Amazon may charge additional fees relating to advertising, merchandising, co-ops and chargebacks.
1P sellers use Vendor Central—a portal Amazon uses to process transactions, and for sellers to search for purchase order statuses, product information and analytics insights.
While Amazon takes ownership and assumes control over your products, you are still fully liable for your products—and should take out liability insurance as a requirement by the platform.
Pros of a 1P Business Model
Overall, the 1P approach is much more hands-off - requiring limited time and effort for the seller. Its key benefits include:
Receive bulk and regular POs from Amazon. This reduces the need for inventory forecasting.
Amazon's merchandising team optimises product listings. This can help your listings stand out against competitors'.
Increase buyer confidence as you sell via Amazon's brand.
Inventory risk is low: and there's no need to take care of logistics yourself.
Manage fees easily, with everything consolidated into one billing structure.
Access flexible advertising options and automatic Prime features such as two-day shipping. 3P sellers can also qualify for these features, but this process generally takes much longer.
Cons of a 1P Business Model
The biggest disadvantage with first-party selling is the fact that you can't control pricing or branding on your products. This means profit margins may be lower; as you may not comply with your Minimum Advertised Price (MAP) policy. Other downsides include:
Facing chargebacks from Amazon if you struggle with inventory management or fulfilling orders on time.

Being completely reliant on Amazon's PO replenishment - to maintain your success selling to Amazon's customer base.

Amazon retains the power to edit your product descriptions and visual listing elements, at their own discretion.

Selling your products for wholesale price.
What is Amazon 3P?
3P sellers operate on the Amazon marketplace: merely using it as a channel. Your store retains its branding, and you gain the business of Amazon's global customer base. Via Seller Central, you can:
Create and publish product detail pages

Adjust pricing structure to win greater market share

View status updates for any orders

Manage and monitor inventory easily
Pricing and inventory management are key aspects of any 3P Amazon store. 3P sellers can choose to fulfil orders in three ways:
Fulfilment by Amazon (FBA): Amazon takes care of packing orders, and shipping and returns
Fulfilment by Merchant (FBM): your business manages the logistics
Seller Fulfilled Prime (SFP): eligible sellers deliver directly to local customers, from their own warehouse
Pros of a 3P Business Model
The main advantage of the 3P business model is its flexibility: giving you control over the most important aspects of your business. You can control your products and pricing via one of two seller accounts—Individual and Professional. Other benefits for third-party sellers include:
Greater control over your brand and its presence, including product information and inventory size. Through the Brand Registry, you can create and optimise listings, product details, images and promotions with no approval required from Amazon.
Fr

eedom to maintain your own pricing model

in real-time, to maximise profit margins and compete against other retailers. With a 3P business model, you can sell your products for retail prices.
Access to a wealth of data and insights, to improve your marketing communications.
Cons of a 3P Business Model
The main disadvantage of the 3P model is that it is time intensive. It takes significant effort and resources to market products and maintains inventory. Other disadvantages include:
Addressing customer service queries and complaints yourself

Your business will be required to create and optimise on-page listings and advertising campaigns

Marketplace fees such as variable closing fees, referral fees, fulfilment fees and shipping
1P and 3P: The Hybrid Model
With a hybrid approach, you can reap the best features of both models. Many successful businesses do this: selling some products to Amazon, and some directly to consumers.
But what does this look like in practice? A blended Amazon 1P and 3P model can take many shapes; it depends on the needs of your business, and the level of control you would like. There are some products that will do better under one model compared to the other - making this a great option for businesses looking to test new products or marketing material.
Pros of a Hybrid Model
There are many benefits associated with a hybrid business model—the main one being its flexibility. For example, you may want to control pricing and inventory for certain items with the 3P model, while Amazon takes care of your best-sellers through the 1P method. Other advantages associated with the hybrid model include:
Having guaranteed inventory availability

More control over pricing to ensure profitability

Ability to list new products at speed and at scale

Access to valuable audience data in Seller Central

Potential to grow your brand with a range of advertising options

Flexibility to choose the right logistical solution for your business
Cons of a Hybrid Model
The benefits of a hybrid model are appealing to most business owners, but there are a few things to consider before jumping in. Most importantly, know this: with greater customisation comes greater time and effort on your part. To successfully meet the requirements of both models, you will need to manage the following through both Seller and Vendor Central, on a daily basis:
Customer messages

Feed monitoring

Stock predictions

Performance indicators

And more
Finding the Right Method for You
To summarise, Amazon sellers have three choices:
Amazon 1P model - in a first-party relationship, the manufacturer (you) sells directly to Amazon as a reseller.
Amazon 3P model - as a third-party seller, you sell your products through Amazon as a platform.
Amazon 1P/3P model - a hybrid model where you maintain control over profit margins and inventory risk.
There is no one-size-fits-all strategy for every business; your objectives are unique and should be weighed against the pros and cons of each model above. From the checkout experience through to supply chains and fulfilment, it's important to consider your needs as a business, as well as the amount of time and budget you're willing to invest.
About Luzern eCommerce
Luzern offers a managed eCommerce platform that optimises sales, margins and inventory across channels and geographies for leading brands across the globe. We have a proven track record of dramatically growing online revenues for brands and we are trusted by household names such as Philips, Fossil, JDE coffee, Panasonic, Petsafe, HTC and Nestle.
By using our deep expertise and technology, we extend your eCommerce capabilities to attract and convert buyers, boost margins and improve customers' experience of your brand. Our technology enables us to excel at the execution-end of eCommerce, bringing you speed and agility across channels (Amazon & other Marketplaces, Webstores) and geographies.