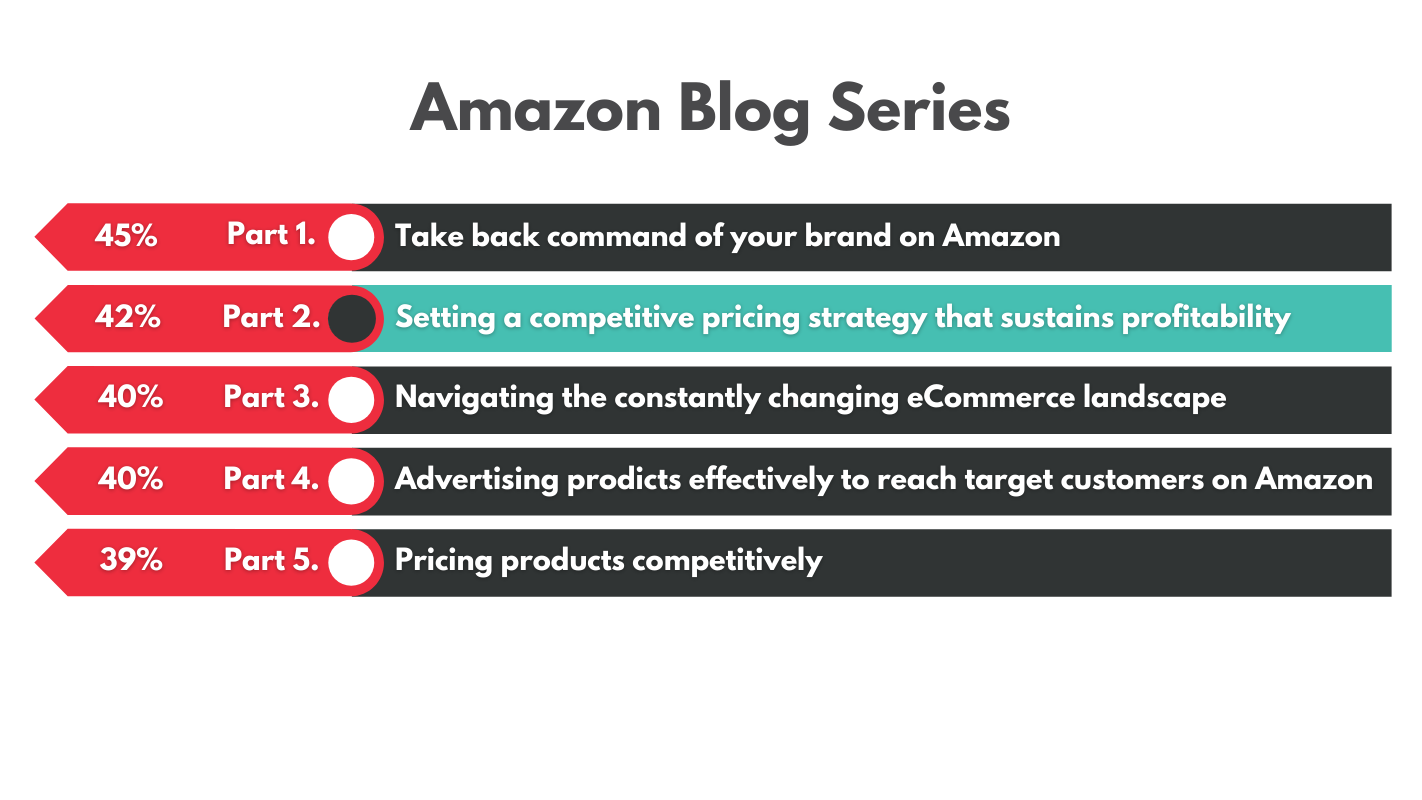 Welcome to the 2nd blog in our 5 part series on how brands can overcome the top 5 challenges of selling on Amazon. The top challenges are compiled from a recent survey of over 250 eCommerce Decision Makers that work with Amazon across Europe & the UK.
Setting A Competitive Pricing Strategy That Suits Profitability
This blog focuses on the importance of setting a competitive pricing strategy that sustains profitability. From the survey, 42% of eCommerce decision makers agreed that this is a priority for long term planning, making it the second highest challenge. Coming after the top challenge of Taking Back Command of your Brand.
The challenge of pricing for profitability
For brands that sell direct to Amazon (known as 1st party vendor or 1P), Amazon acts as a retailer with the authority to independently implement price adjustments. For example, if the product is available elsewhere at a lower cost, even in a promo on the high street, Amazon can demand a price match. Brands of all sizes can face these pricing challenges, resulting in lost revenue.
As part of their business model Amazon, of course, wants to maximise its profit margins. This is accomplished by prioritising and pushing what is selling best. Brands with poorer performing items and less sales often get a stark warning from the marketplace giant that lower pricing is needed, otherwise they will pull these products altogether. When Amazon deems a product not-profitable, referred to as "CRaP" (Can't Realise a Profit), the product faces the very real risk of being dropped, and in many cases Amazon will de-list the item and cease to re-order.
The autonomy afforded by working with a trusted 3P (3rd Party) partner, such as Luzern, facilitates independent price changes based on real-time monitoring of a brand's portfolio by recommended retail price (RRP). Done right, a 3P approach can complement a Brand's 1P model. This Hybrid 1P/3P sales strategy improves your online presence, enables you to build up product listings and history, growing sales and margins across 3P, as well as protecting your 1P direct with Amazon, avoiding channel conflict or pricing battles.
Benefits of a blended 1P/3P Model:
Measurement and ranking of products based on the discount distance (gap) to RRP on Buy Box price available to shoppers.
Pricing comparisons across relevant Amazon geographic regions.
The ability to drill down at a seller level to see which seller(s) are impacting pricing. Prices change frequency and magnitude over time, including which sellers, Buy Box %, etc.
Data intelligence on key metrics, such as the conversion rate.
Luzern uses its proprietary platform "Channel Optimizer" to analyse buying behaviours such as purchase frequency and customer review generation, to inform assortment decisions and boost products to the top. This has a positive influence on customers' perception of the brand and their ongoing purchase decisions and ultimately drives sales, profitably.
In this five part series we look at the top five challenges faced by eCommerce Brands and share what's actually working when developing a modern marketplace presence to grow online sales, profitably. Stay tuned as we share Part 3 over the coming weeks.
The Amazon Specialist Team,
Luzern eCommerce