Part 3: Navigating the constantly changing eCommerce landscape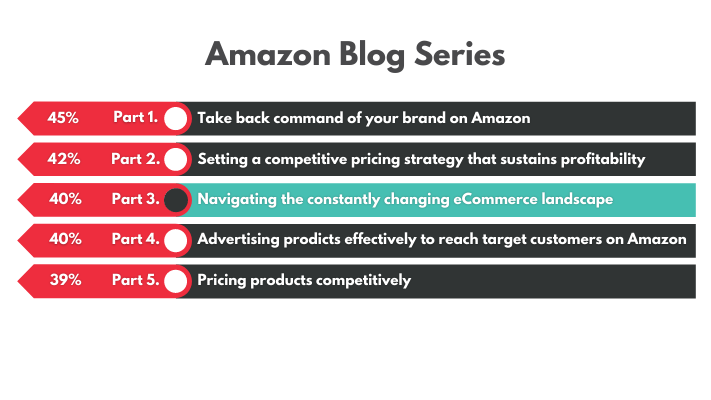 Welcome to the 3rd blog in our 5 part series on how brands can overcome the top challenges of selling on Amazon. We look at the top 5 challenges faced by eCommerce Brands and share what's actually working when developing a modern marketplace presence to grow online sales, profitably. The top challenges are compiled from a recent survey of over 250 eCommerce Decision Makers that work with Amazon across Europe & the UK.
Navigating the constantly changing eCommerce landscape
Over 50% of eCommerce business decision-makers in our recent study revealed that navigating Amazon can be extremely difficult. The implications of losing control of your Brand have far-reaching consequences, including diminished margins, channel conflict, and the risk of making little and sometimes no profit on certain products. While the pandemic may have facilitated some brands to sell online, that doesn't mean that they need to lose control of a brand you worked so hard to create.
Reaching target customers through effective advertising:
Although high-quality content is a requisite for successful trading on Amazon, competing listings mean more brands are looking to reach new buyers and convert more sales with effective advertising. According to the survey, 40% of respondents find it problematic trying to reach their target audience. To improve content and listings, brands need to consider increasing their Amazon advertising and Demand-Side Platform (DSP) budgets. By advertising on Amazon, brands can decrease sales cycle time, improve brand awareness, enhance product visibility, capture customer insights for more precise and targeted campaigns, gain a better understanding of the shoppers' journey, know when shifts in buyer behaviour are taking place and track advertising results.
Use tools that deliver operational intelligence to understand more about your customers, their sales journey and how they like to shop. Knowing your customers helps to tailor product offerings to suit your target buyer and to discover new customers. Fine-tuning helps differentiate your offering whilst meeting their wants and needs.
Artificial Intelligence (AI)
As AI continues to gain traction, Brands will need to go one step beyond just analysis on a dashboard and, more importantly, find technology providers that give the capability to take immediate action on the insights gleaned from their analysis. Solutions with smart decisions automatically take action based on data-driven insights. They will need automated functionality to proactively manage sales margins, positioning against competitors, and drive conversions, in real-time.
Keeping control of Price Points whilst avoiding channel conflict
It's no secret that the right product at the right price makes all the difference in driving those coveted conversions. Many of your competitors are already using pricing tools to leverage the marketplace. While repricing (via automated tools) is a common strategy, there are other factors you can focus on to get customers to pay a price that not only is attractive for your customer but fits with your pricing strategy to maintain profitability.
Largely due to stiff competition and Amazon's ability to demand the brand to price match competing products, they can and will independently implement pricing adjustments. Over one-third (39%) of eCommerce decision-makers encounter difficulties in being able to competitively price their offerings.
The recent past has led to even more Brands finding themselves under extraordinary margin pressure when selling to Amazon directly (1P), which is generally triggered by a price war to win the buy box. Amazon will, of course, seek to maximize their margins and push the best sellers. They then make demands on the Brands for better prices or they may stop ordering some or all of the products. This can equate to millions in lost revenue in list suppression and stock-outs if the "demands" aren't met.
However, by implementing a Hybrid 1P/3P strategy with a trusted third-party provider (such as Luzern), Brands have price autonomy over their products as it facilitates independent price changes to suit your pricing strategy. A Hybrid approach delivers flexibility and gives more control back to the Brand.
Optimizing Product listings with content that converts
Optimizing your product pages to present your products effectively has never been more important. Not only to improve the visibility of your products on Amazon but also to improve the customer experience of your Brand. Compelling product descriptions, clear feature bullets and strong imagery with clear product photos improve the shopping experience for the customer and increase the likelihood that they'll buy from you. Invest in making your listing look as professional and appealing as possible. Video can be especially effective here for brand and product awareness. Luzern's SEO Specialists work side-by-side with our Amazon Marketing Experts to deliver a fully optimized Amazon listing that combines your product keywords with compelling sales copy to create a very effective product listing.
Understanding Shopper habits
Consumer buying motivations are constantly changing. Understanding shopper behaviour, especially what fuels purchases and how those drivers may change is key when setting a modern marketplace strategy.
For example, if you know customer preferences, you can innovate with offerings such as bundling products together at a discounted price point. Bundling not only keeps the customer happy, but it also increases your AoV (Average order value), a win-win for you & your customers. You can continually refine to see what you can do differently to attract customers.
What's next?
Put these strategies to work and partner with an eCommerce expert, such as Luzern, and no matter what the future holds in store, your business will thrive on Amazon.
The Amazon Specialist Team,
Luzern eCommerce