Part 5: Pricing products competitively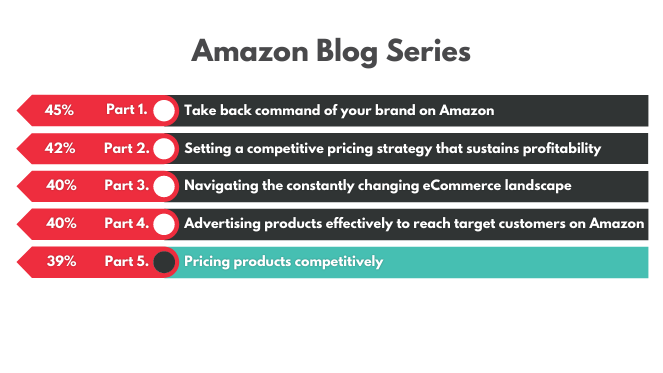 Welcome to part 5, the final post of our 5 part Blog series "Overcoming the challenges faced on Amazon" based on our survey of over 250 eCommerce Decision Makers, across the UK and Europe to explore their experiences with Amazon in 2021 and their plans for the future.
This blog focuses on Pricing products competitively and includes a recent Case Study on Nestlé Health Science.
42% of eCommerce decision-makers surveyed stated the importance of setting a competitive pricing strategy that sustains profitability. Looking at ways to reduce margin pressure (37%), looking to enter new markets (37%) and increasing AoV (37%) were most likely to be part of the eCommerce decision makers' medium term Amazon sales strategies (over long and short timeframes and ad-hoc). However, it's notable that looking to enter new markets (31%), looking at ways to reduce margin pressure (25%), adding new products or ranges to their Amazon offering (23%) and increasing average order value (AoV) (22%) were all part of long-term strategies as well. The autonomy afforded by the 3P Hybrid Model facilitates independent price changes based on real-time monitoring of a brand's portfolio by recommended retail price (RRP). Insights include:
Measurement and ranking of products based on the discount distance (gap) to RRP on Buy Box price available to shoppers.
Pricing comparisons across relevant Amazon geographic regions.
The ability to drill down at a seller level to see which seller(s) are impacting pricing.
Prices change frequency and magnitude over time, including which sellers, Buy Box %, etc.
Data intelligence on key metrics, such as the conversion rate.
Such intelligence, allied to human eCommerce expertise and automated technology such
as Luzern's automated price checker, allows continuous monitoring of the market price and optimisation of margins to ensure sustainable profitability.
Case Study
Nestlé added a 3P account, managed by Luzern, to their existing 1P Amazon sales. This enabled them to expand their offering beyond the products being sold on 1P, stay in control of their pricing and maintain a direct relationship with their online customers.
The brand and pricing control offered by 3P selling can be used creatively to avoid head-to-head price battles and to stimulate sales of slow-moving stock. An example is the bundling of products – synergic SKUs or multiples/variations of the same product at a slightly discounted price, essentially to create new SKUs not available via Amazon's 1P selection. This not only provides added value to the customer but also increases the brand's Average Order Value (AOV).
Luzern utilises customer behaviour insights to align customer preferences with Amazon's profitability requirements. This expertise was called on by a household name in stationery products who found that its low average order price was not viable for its European online business, and that Amazon was not stocking some SKUs due to their lack of profitability. This in turn meant pricing conflicts for its retail partners in a crowded market and limited the brand's ability to expand into new territories.
Based on buyer preference insights gleaned from its eCommerce platform, Luzern worked with the brand to a target school and university customers with new multi-packs and bundles. This achieved a sales increase of more than 200%, and 25% higher margins. At the same time, the adoption of a 3P channel ensured products were listed and optimised on Amazon via 3P, even when not deemed viable for 1P sales. The brand went on to establish a footprint in six new territories.
If you'd like to speak to one of our Marketplace experts and see first-hand how our managed Channel Optimizer platform can support your Brand can implement a successful Amazon sales strategy for today, and for whatever tomorrow brings, GET IN TOUCH!