IDC Blog Series: 1. The Amazon Challenge for Consumer Brands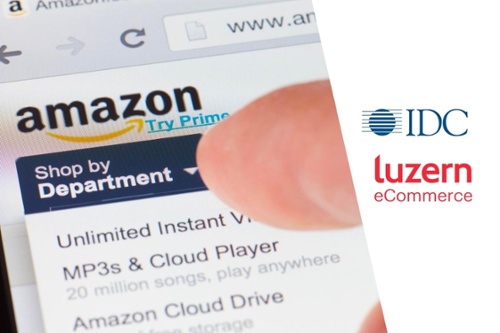 This Blog Series focuses on the key Takeaways from IDC Vendor Spotlight Whitepaper, commissioned by Luzern eCommerce.
KEY TAKEAWAYS: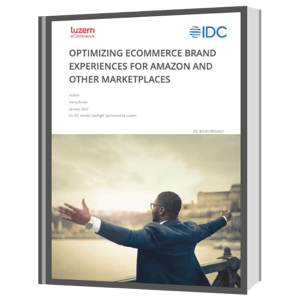 Amazon is the largest worldwide online marketplace, offering over 350 million products. However, the Amazon marketplace is a challenge to brand marketing control and needs careful navigation.
Brands must embrace the Amazon marketplace channel as it represents over 50% of online retail market revenues.

The Amazon marketplace is a challenge to brand marketing control and needs careful navigation.

Luzern's Channel Optimizer ecommerce platform is designed specifically for the Amazon marketplace, and combined with Luzern's specialist Amazon marketing services enable brands to increase profitability.
In the first in our four-part post series we look at:
The Amazon Challenge for Consumer Brands
Amazon is a phenomenon. Founded as a start-up in 1994, it now has the third-largest annual revenue in the world ($386 billion in 2020) after Walmart and the Sinopec Group. It is also the most profitable ($21.3 billion) of the top 10 largest companies in the world, aside from Apple.
This success has been built on creating a market-dominating position in online retailing. In the U.S., of every $1 spent on internet shopping, $0.50 is spent with Amazon. It has a tenfold size advantage in online retail shopping over its nearest challengers, Walmart and eBay. Amazon has mastered the oft-quoted term "the network effect" through the Amazon marketplace.
This gives Amazon not only enormous global economies of scale but also enormous relative bargaining power over sellers. In economics, this is known as a "monopsony," when a single buyer substantially controls the market as the major purchaser of goods and services offered by many would-be sellers.
This situation creates a dilemma for consumer brands. They cannot afford to ignore the Amazon marketplace and deprive themselves of 50% of their online total addressable market (TAM). To enter the Amazon marketplace, however, means brands must play by Amazon's exacting operating rules.
Brand marketers have invested heavily in marketing strategies (4Ps — product/price/promotion/place and the like) to differentiate their product offers from competitors. By entering the Amazon marketplace their control over these marketing mix variables can potentially be diminished significantly, which represents a strategic risk to consumer brands that treasure their independence and brand power influence with the consumer.
Luzern's Value-Add
Luzern provides specialist advice, guidance, and expert assistance in brand content, product assortment, inventory, and pricing, as well as many other services, devised and optimized specifically for the Amazon marketplace. Luzern actively manages brands' customer buying experiences by providing optimal marketing mix positioning designed to drive conversions, boost online sales, and provide sustained profitability from brand investments in the Amazon 3P marketplace.
You can download the IDC Vendor Spotlight: Optimizing eCommerce Brand Experiences for Amazon and other Marketplaces here.
In our Next Blog, read how brands can best manage their presence on the Amazon marketplace while minimizing unwanted channel conflict.
About Luzern eCommerce
Luzern offers a managed eCommerce platform that optimizes sales, margins and inventory across channels and geographies for leading brands across the globe. We have a proven track record of dramatically growing online revenues for brands and we are trusted by household names such as Philips, Fossil, JDE coffee, Panasonic, Petsafe, HTC and Nestle.
By using our deep expertise and technology, we extend your eCommerce capabilities to attract and convert buyers, boost margins and improve customers' experience of your brand. Our technology enables us to excel at the execution-end of eCommerce, bringing you speed and agility across channels (Amazon & other marketplaces, D2C) and geographies.