Press Release - big win for Luzern eCommerce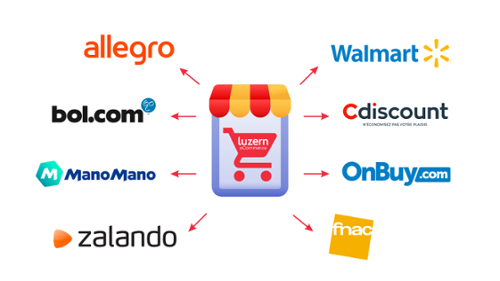 Luzern eCommerce Strengthens Its Position As The Leading Managed eCommerce Acceleration Platform For Brands
Announces Major Customer Wins
Delivers Record Sales in Europe for its Customer Portfolio of Household Name Brands
Extends Multichannel Offering integrating into eight additional Online Marketplaces across Europe & North America
DUBLIN, Ireland – Thursday 7 July 2022: Luzern eCommerce, the leading managed eCommerce platform provider, has announced $multi-million wins with Panasonic, Nestlé Health Science and Schneider Electric. This success comes as Luzern eCommerce extends its support beyond Amazon to include multiple online marketplaces. The company has gained unrivalled knowledge through supporting a wide range of leading brands on the Amazon platform over the past 15 years and is now within the top 1% of sellers. More recently it has extended this expertise and integrated with leading marketplaces including Allegro, Bol.com, ManoMano, Zalando, FNAC, cDiscount, OnBuy and Walmart as well as extending its 3P support for Brands selling on Amazon and eBay.
Luzern's deep domain expertise and proven success is built on driving conversions and increasing online sales, profitability for their customers by creating and actively managing the rollout of go-to-market plans across Europe. The move into multi-marketplaces gives brands a broader range of opportunities to reach and convert customers, promote specific products and ranges, and create new offerings that differentiate themselves from their competitors.
"Brands need to be where each consumer buys to compete in an increasingly crowded world," said Ken Doyle, CEO, at Luzern eCommerce. "Our expansion to support more online marketplaces will further enable eCommerce brands to sell wherever their customers want to buy."
"People want to shop wherever they spend their time online, and brands need to meet high expectations and create purchasing experiences that are convenient, immediate and simple. That's Luzern's role."
Luzern delivers the technology and the expertise for brands to optimise sales, margins and inventories internationally, as well as in specific target countries, creating transparent processes to enable brands to meet their customers on the channel of their choice - be that on Amazon or other marketplaces, a branded online store, or on their favourite social media channel.
In terms of selling direct to the consumer (D2C), an online brand presence and digital storefront must go far beyond just 'looking good'. It must be a flawless customer journey from attracting to converting, to delivery of the customer's order from the warehouse directly to their door, wherever the location of that customer.
Specialising in optimising sales, margins, and inventory, Luzern's technology and expertise enable excellence at both the planning and execution end of eCommerce, bringing brands speed and agility from attracting those shoppers with the right advertising through to fulfilment and delivery of the order, in both national and international markets. Customers include Panasonic, Schneider Electric and Wella.
About Luzern eCommerce
Luzern eCommerce is a leading European managed eCommerce platform provider that optimizes sales, margins and inventory across channels and geographies for brands across the globe. Our technology (Channel Optimizer) coupled with our deep domain expertise helps brands reach and convert customers on their channel of choice: direct on a branded webstore, on Amazon or other marketplaces or through Social Commerce. We excel at the execution-end of eCommerce, bringing speed and agility to ensure fast time to value for our customers. Luzern eCommerce has evolved with economic and consumer trends and has adapted the business to what it is today, a leading eCommerce accelerator to some of the world's leading Brands. Headquartered in Dublin, Ireland, Luzern is proven to dramatically grow online revenues and is trusted by brands such as Philips, Fossil, JDE coffee, Petsafe, HTC and Nestlé.
For more information contact: Orla Power, Director of Marketing, Luzern eCommerce: orla.power@luzern.co
Rahme Mehmet, MD, TechComms: rmehmet@techcomms.co.uk