What to do if your product was delisted on Amazon?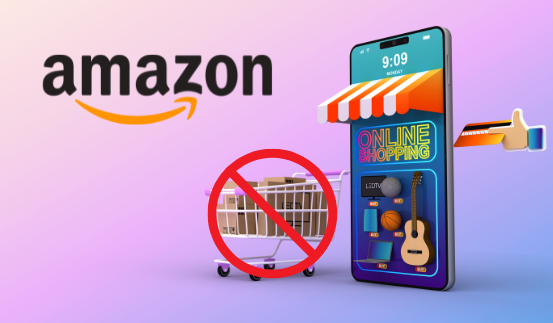 When your product is delisted from Amazon, it can feel like the rug has been pulled out from under you. Your entire ecommerce business could be put into jeopardy if your listings are removed and not restored quickly. But don't panic - while this may seem like a devastating situation, there are proven steps you can take as an ecommerce manager and marketplace specialist to try to get your products reinstated on Amazon and avoid future delisting incidents. Read on for our tips about what you should do when facing a situation of delisting from Amazon!
What to do if your product was delisted on Amazon?
Brands selling on Amazon are currently experiencing a tough time as many of them are being delisted due to certain challenges faced by the e-commerce giant. These challenges include soaring operational costs, changes in Brand portfolios, and inflation which created the need for significant spending to generate demand. As a result, products are being deemed as CRaP, even if there weren't any changes in their cost prices.
If your product has been deemed 'CRaP' (Can't Realize any Profit) by Amazon, it can be a difficult situation to navigate. First and foremost, you should understand what CRaP is and why Amazon labels certain products as such.
CRaP stands for 'Cannot Realize any Profit' and refers to products that are structurally unprofitable for Amazon. These products are usually low-cost, high-weight items that cost more to ship than they generate in revenue. Additionally, these products may have a low margin or may require additional services such as Prime shipping or Fulfillment by Amazon (FBA).
Shockingly, even products with unchanged vendor cost prices are not immune to this issue. This is because Amazon has seen an astronomical rise in variable costs over the last couple of years, making it increasingly difficult for these products to stay listed on the platform.
7 actions Brands can take if their products have been delisted and marked as CRaP on Amazon
If your Brand's product has been delisted on Amazon Marketplace, there are several actions that can be taken. Some of these actions include:
Check the Reason for Delisting: Check the reason why the product was delisted in the first place. This information is usually provided by Amazon and can be found in the Seller Central account.

Review Product Listings: Review the product listings including the descriptions, images, titles and bullet points to ensure that they adhere to Amazon's policies.

Correct any Issues: Correct any issues that may be causing the delisting, for example, by modifying the price, product description or images.

Improve Listing Quality: Take steps to improve the quality of your listings, for example, by improving the product images, optimizing the title or bullet points, or boosting the product reviews.

Add Value to Your Listing: To avoid the constant headache of dealing with price matching and low-profit margins, many brands have found success in launching exclusive variations of their products and bundles

that are only available on Amazon. These b

u

n

d

les are not treated as identical to the original product by Amazon's pricing algorithms, and they create additional value for customers.




Review your Costs: It's important to review your cost structures of items at risk of being delisted from Amazon. Working on cost efficiencies with your suppliers and manufacturers, or with Amazon itself, can help you maintain a successful relationship with the online marketplace. For example, you could negotiate cost price discounts in exchange for larger buying commitments (bulk orders) from your Amazon vendor manager. If you have the capacity, switching to a vendor-flex solution is another option. This involves shipping goods directly from your warehouses to the end customer instead of sending them to Amazon - which can be a huge cost-saving for the online marketplace. Use this opportunity to renegotiate terms and cost-price structure with Amazon.


Diversify Sales Channels: Diversify your sales channels to reduce reliance on Amazon. This could include selling on other marketplaces or setting up your own e-commerce website.
Overall, there are various actions that Brands can take to reinstate their product on Amazon Marketplace after delisting. Brands should ensure that the product and the product pages comply with Amazon's guidelines and take this chance to optimize the product listing. In addition, by offering unique bundles, brands are able to set themselves apart from competitors in the marketplace and maintain higher profit margins. This strategy also ensures that its product listing remains active since Amazon recognizes the value that is being provided to customers.
How Luzern eCommerce can help your Brand to minimize CRaP?
CRAP product status does not affect 3P sellers, once we establish our go-to-market pricing strategy, we can list products regardless of Amazon's view of CRAP status ASINs. Regarding Suppressed listings, this typically happens when Amazon detects the same product being sold on another eCommerce site at a lower price.
Luzern offers a managed eCommerce platform that optimises sales, margins and inventory across channels and geographies for leading brands across the globe. We have a proven track record of dramatically growing online revenues for brands and we are trusted by household names such as Philips, Fossil, JDE coffee, Panasonic, Petsafe, HTC and Nestle.